By Annabelle Lee
CALONKINI | Lorry driver S Shanmugam admits that his PMR certificate is his highest education qualification – not exactly the usual credentials for someone considering running for elections.
Nevertheless, he is Parti Sosialis Malaysia's (PSM) pick to stand in the Selangor state seat of Pelabuhan Klang in the 14th general election.
In a recent interview, Shanmugam talked about how he started working as a teenager because his family could barely afford to keep his younger sister in school.
Later, he tried his hand at upskilling himself and enrolled for a logistics diploma, but was unable to complete the course when he ran out money to pay the school fees.
"I have worked as a clerk, paramedic, hospital worker, logistics assistant and now a lorry driver.
"From the outside, people may think the work of a lorry driver is easy and the pay is high. But it is a tough job.
"I did it for six years and you need to work even when you have a fever. Sometimes if you are transporting 30 to 40 boxes, you have to carry them all by yourself if you have no assistant," he told Malaysiakini at his service centre in Port Klang.
In 2011, Shanmugam was fired from his job in a logistics company for challenging the management about how he and his colleagues were working overtime without appropriate compensation.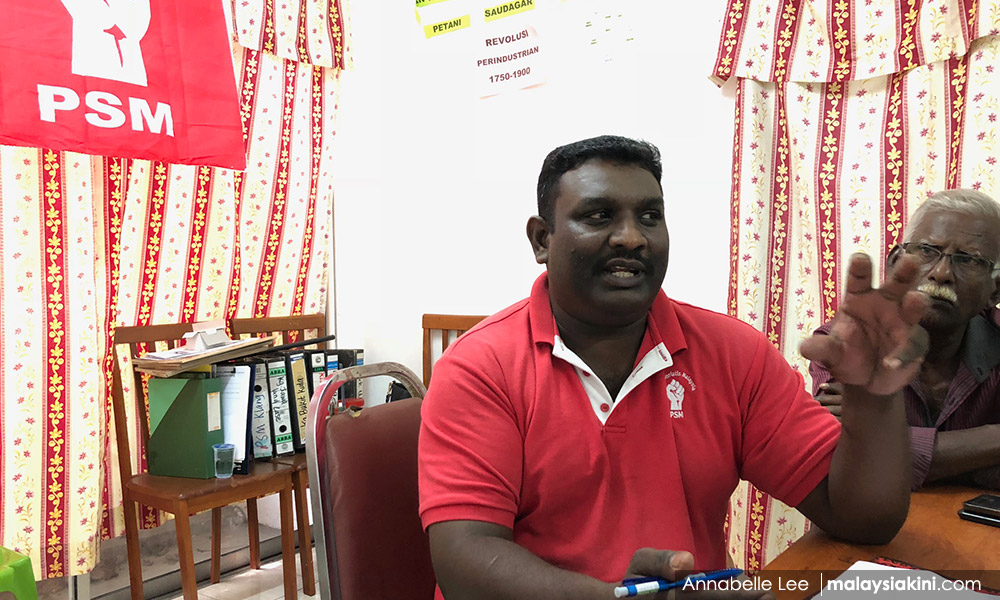 Wanting to sue his employer, he approached PSM for help after learning about them through a leaflet.
"I had no idea where the PSM office was, and I didn't know anyone from the party. But I asked them and they actually helped me," he said.
That impressed Shanmugam, and he joined the party in 2014. He rose quickly to become division chief for both Port Klang and Klang, before his nomination as a GE14 candidate last October.
Capitalising on discontent
Fully acknowledging his underdog status, he nevertheless believes he stands a chance, as voters are now able to look past BN's handouts, and are especially frustrated at PKR.
Twice Port Klang voters have had to put up with an elected representative who defected from PKR just a year after winning the seat.
Incumbent Khalid Ibrahim quit PKR in 2014 after the menteri besar crisis and is currently an independent candidate.
Five years prior, PKR's Badrul Hisham Abdullah won the seat, but similarly quit the party in 2009. PKR is slated to contest the seat again this time around.
https://undi.info/embed/?p110n46
Far from being nervous, Shanmugam says he is looking forward to trying his hand at being a people's representative.
"Doctors and lawyers are not the only people who can contest. In fact, those who are educated are those who know how to cheat the people best.
"I believe everyone has the right to contest, regardless of whether you are a lorry driver or a farmer, as long as you are bold enough to speak up and fight for the people," the 40-year-old contended.
In his own words, Shanmugam explains why he believes his harsh upbringing and varied life experiences have moulded him to be a representative for the people.
BEFORE I JOINED POLITICS, I THOUGHT ALL PARTIES WERE THE SAME. They come and make promises but never fulfil them. I had no intention of getting involved.
I SAW A DIFFERENT BRAND OF POLITICS IN PSM. They go to the ground and help people fight their cases. They fight for the oppressed.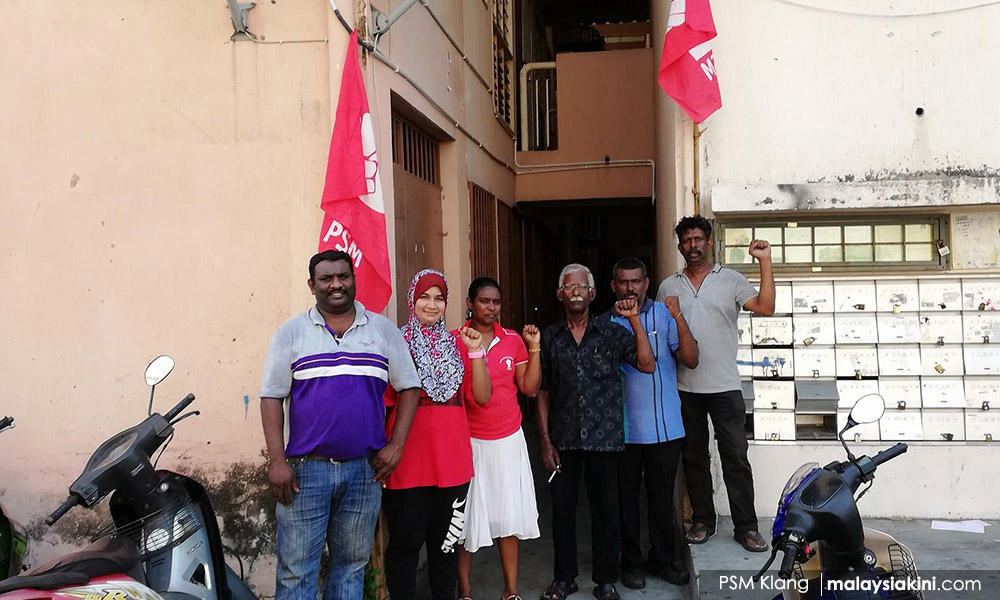 When I got fired from my job, PSM took me to see a lawyer who advised me how to go about my case. In the end, we did not pursue the case as I did not want to pay money to the court.
Even so, I followed them around and saw how they would leaflet to the poor and needy, single mothers and people who were oppressed. And they organised protests in Putrajaya. I had never seen people protesting in Putrajaya before.
SINCE JOINING, I HAVE HANDLED MANY CASES LIKE MINE where workers were not paid. I have also helped those who were chased out from their own homes, those with special needs and estate workers.
UNLIKE OTHERS, WE DO NOT 'TURUN' PADANG ONLY WHEN ELECTIONS ARE NEAR. PSM's principle is we go to the ground. These past four years, I have worked hard not just in Port Klang but the whole of Klang.
If I win, I will set up tables at every voting district where people can come and tell us their complaints. We will do it once a week, or once every two weeks.
And I want to fix all the broken street lamps and bumpy roads in Port Klang.
I AM PREPARED TO FACE COMMENTS THAT I AM HERE TO SPLIT VOTESand help BN win. I have worked here so I will contest here.
But if we win, we can do more work here. If we lose, I will continue serving the people of Port Klang.
THE PEOPLE OF PORT KLANG DESERVE SOMEONE WHO WILL TRULY HELP THEM, someone who is brave to speak out for them. Not just someone who gives them sardines, rice and oil when elections are near.
IF PEOPLE REALLY KNEW WHAT PSM WAS ABOUT, I think 80 percent of them would choose us.
Voters need to truly know the candidates contesting in their area, like what are the candidate's strengths and weaknesses and what they can do for the rakyat.
---
CALONKINI introduces new faces from all sides of the political divide who are potential candidates for the 14th general election.
These interviews are not an endorsement by Malaysiakini.