By Annabelle Lee
CORONAVIRUS | In light of a possible tsunami of new Covid-19 cases, the Health Ministry has taken proactive measures to increase the number of hospital beds and ramp up its containment efforts.
At a press conference this evening, ministry director-general Dr Noor Hisham Abdullah explained that they were preparing for the eventuality where cases surged to 1,000 per day.
"Let us prepare for the worse and hope for the best. It is better for us to overprepare than to underprepare. If we underprepare, it means we are unprepared," he said.
He shared that the present capacity at hospitals was 5,292 beds.
The ministry is in the midst of creating 600 more beds (above) at the Malaysia Agro Exposition Park Serdang (Maeps).
"If we need (more), the beds are ready," he said, adding that the facility will be ready by tomorrow.
Global investment bank JP Morgan previously projected that Covid-19 infections in Malaysia would peak at 6,300 cases in mid-April.
The Malaysian Institute of Economic Research (Mier), meanwhile, projected a peak of 8,900 cases.
Enhanced MCO is to protect safe zones
The Muslim fasting month of Ramadan is set to begin on April 23 and a month after that will be Hari Raya Aidilfitri, a festive period when millions usually travel back to their hometowns.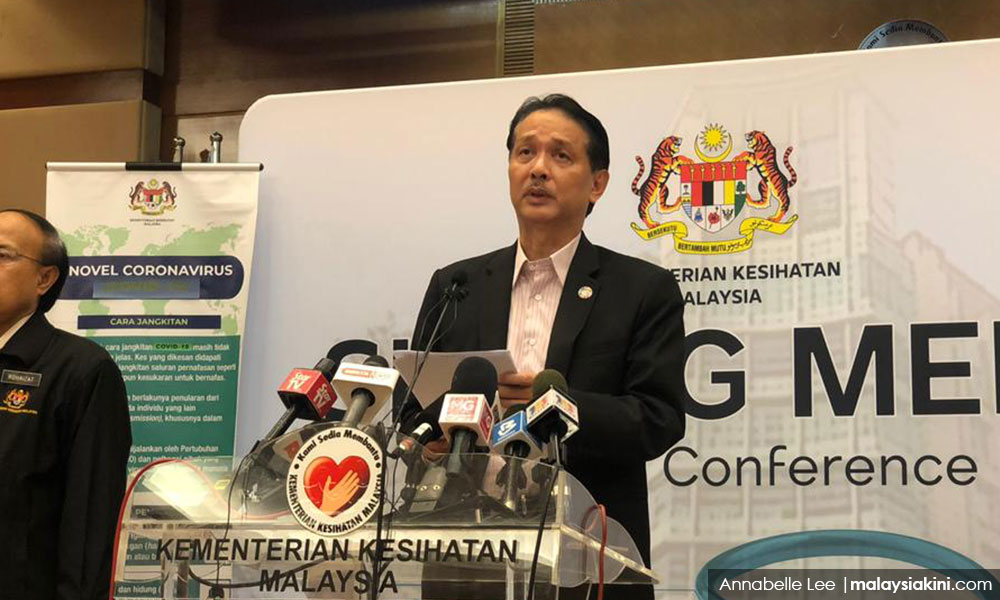 Hisham admitted it was too early to predict the severity of the Covid-19 outbreak by then but said it will use the enhanced MCO strategy to prevent an exponential rise in cases leading up to the festive period.
The ministry has identified "hotspots" or red zones – a district or area that has recorded more than 41 cases over the past 24 hours.
Should there be a further spike in cases in those zones, an enhanced MCO would be imposed.
Hisham said this strategy would not only isolate hotspots but hopefully also protect other areas from contagion.
"In high hotspot areas, we will enhance the MCO.
"But (for) the green areas, we need to protect them," he explained, adding that China had employed the same strategy by locking down three cities to protect its capital Beijing.
Thus far the areas under enhanced MCO are two villages in Kluang, Johor.
"Everyone in the ministry is working around the clock to make sure we can deliver and bring down the cases. And perhaps prove that this (6,300-case) prediction is not right," Hisham said.