By Annabelle Lee
Women who wish to avoid being harassed in public should dress in a "comot" (shabby) manner, according to Federal Territories Minister Tengku Adnan Tengku Mansor.
He said this in response to a woman, who expressed concern about public safety during a Tranformasi Nasional 2050 (TN50) dialogue in Bandar Tun Razak, Kuala Lumpur last night.
"Recently there have been many robberies and kidnapping, I feel scared when I walk around my area.
"Even in shopping malls, people disturb me, even security guards disturb me," said the woman, who identified herself as a member of Federal Territories Puteri Umno.
Concerned about the safety of her two daughters, she expressed hope that the government would improve security.
However, Tengku Adnan, who is better known as Ku Nan, drew attention to her appearance.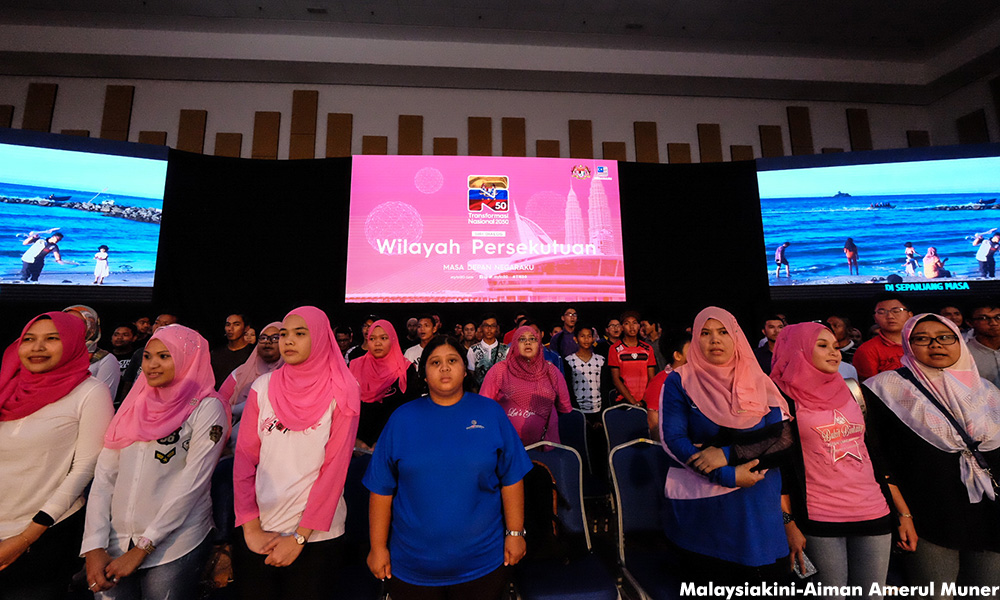 "It's because you're so beautiful. The next time you go out, wear more comot(shabby) clothes," he quipped, drawing cheers and applause from the audience.
The woman laughed at Tengku Adnan's advice and continued speaking for a few more minutes before sitting down.
"Honestly, I feel very scared," she said.
While she was speaking, some members of the audience were heard doubting her experience of feeling unsafe while others complimented her looks.
Wolf-whistles were also heard when a live broadcast of her speaking was projected onto the two large screens in the auditorium.
Youth and Sports Minister Khairy Jamaluddin, who co-hosted the dialogue, did not respond to the woman or Tengku Adnan.
However, in a commentary written on International Women's Day this year, he had expressed hope that by 2050, "no one should be stupid enough to suggest that sexual harassment or crimes are the fault of the women for what they wear."
More than 850 people attended the "Federal Territories – The Future of my Country" session, a majority of them university students and young professionals living in the capital city.
The government has been holding TN50 town hall sessions across the country since January to record the aspirations citizens have for Malaysia leading up to 2050.