By Annabelle Lee
After an almost 18-hour raid on former prime minister Najib Abdul Razak's Langgak Duta residence, a "Black Maria" has left the scene carrying what appears to be stacks of turquoise-coloured boxes.
In the back of the truck were a police officer and a bespectacled man dressed in a light-coloured shirt.
The man did not identify himself to members of the media despite repeated questions.
The Black Maria, a vehicle often used to pick up police detainees and convicted persons, was accompanied by two police outriders and a police car with the siren on.
As it began to rain heavily, the vehicles wove through heavy rush-hour traffic, with the outriders moving to clear the road for the police vehicles.
It is unsure where the entourage will be heading.
Malaysiakini understands there are still police officers inside the house.
Lawyers assemble at the residence
Earlier, several lawyers were allowed by police into Najib's residence, which has been cordoned off since last night.
Najib's lawyer Harpal Singh Grewal, Umno lawyer Hasnal Rezua Merican and a vehicle belonging to lawyer Chan Mun Fong were seen entering the house.
Since 10.15pm last night, police have been raiding Najib's private residence.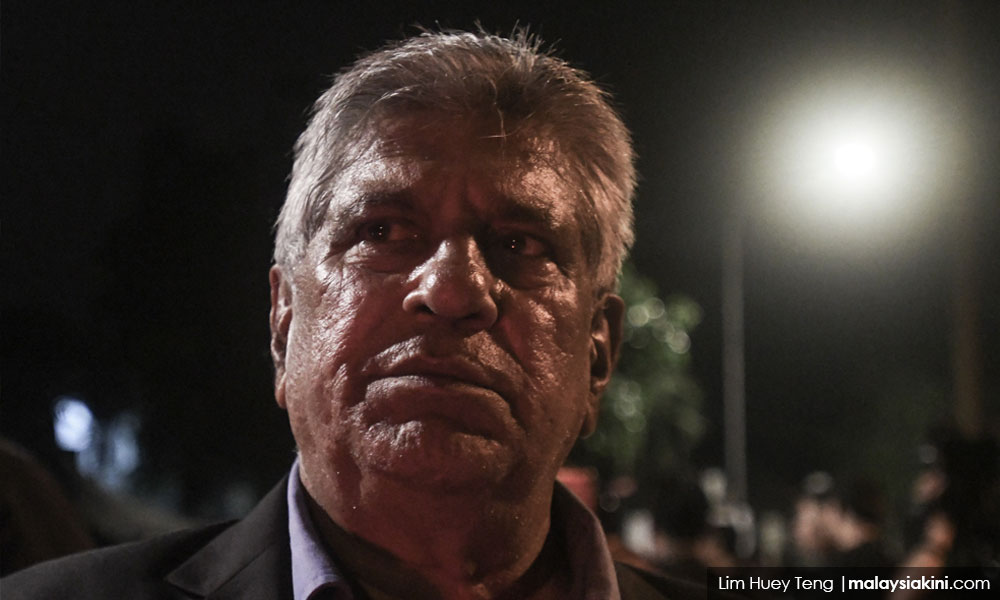 About 4am today, Najib's lawyer Harpal Singh Grewal (photo) said the search team had seized three to four boxes of handbags, presents and personal belongings.
He claimed that no documents were taken.
Harpal said he believes that the former prime minister is being investigated in relation to money laundering.
A source told Malaysiakini that conducting such an operation on the first day of Ramadhan was unwarranted.
He also shared a photograph of Najib falling asleep on the sofa as police officers from the federal Commercial Crimes Department combed his house.
Earlier today, several Pakatan Harapan leaders criticised the raid on Najib's home for being done in the wee hours of the morning.
Permatang Pauh MP Nurul Izzah Anwar said police should instead "charge and investigate prudently".
"As former victims of early dawn police raids, I must stress my disagreement in ransacking any home at such an ungodly hour.
"Charge and investigate prudently. The principles of justice and wisdom must always be applied by the police," wrote Nurul Izzah, who is the PKR vice-president.
Prime Minister Dr Mahathir Mohamad had earlier in the day denied having a hand in "torturing" his predecessor.