By Annabelle Lee
Most would agree that national primary schools, or SRKs (Sekolah Rendah Kebangsaan), need to be improved.
Last month, Malaysiakini's special report on the education system showed that more and more parents, especially non-bumiputra, preferred vernacular or private education for their children.
Among their reasons for opting out of the SRK was poor teaching quality, bullying, racism and creeping Islamisation.
Not only has this led to fewer Malaysians growing up in a multi-racial environment, but experts are also concerned that the growing private school demand will widen the class divide.
The solution, according to UKM's Professor Teo Kok Seong, is to combine the best practices of vernacular, Islamic and national schools into one unified stream, where students learn academic subjects, their mother tongue, culture and respective religions from 7am to 3pm every day.
His proposal calls for an end to vernacular education, which could prove incredibly challenging to implement.
Other experts believe there are alternative ways to make national schools the preferred choice.
Here is how they reimagine the SRKs:
"Project-based School" – Chan Soon Seng
Teach For Malaysia Programme Director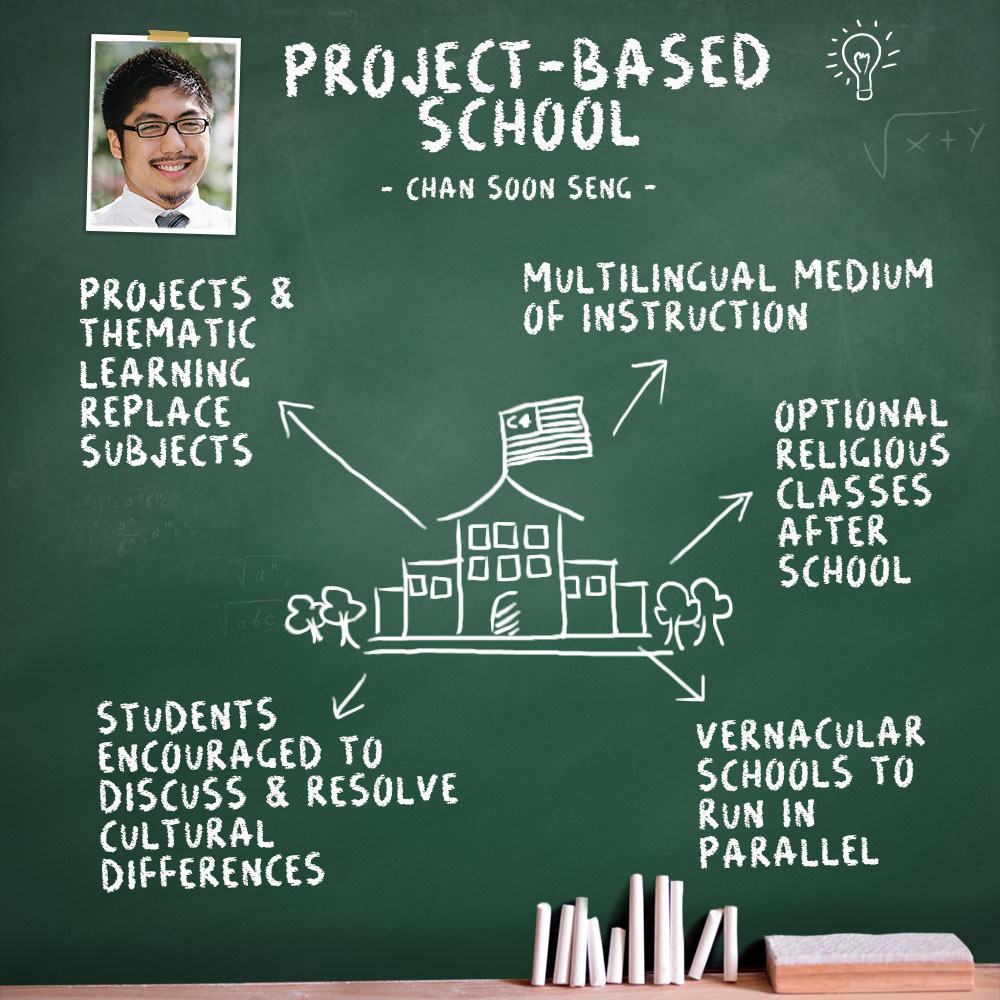 Instead of focusing on academic performance and subjects, Chan's ideal SRK would adopt a more flexible project-based approach.
Projects allow for a combination of skills and multi-disciplinary knowledge to be taught. Students would also get opportunities to apply what they have learned.
This approach would also make timetables less rigid and allow students to learn, take breaks and play at their own pace.
Assessments, too, would be less broad-stroke. Chan suggested that evaluations take into account more non-academic elements and be tailored to the progress of each child.
As for the medium of instruction, Chan proposed that SRKs shed the present monolingual approach for a multilingual one.
For the lower primary level (Year 1 and 2), he said students would be taught in their mother-tongue. For higher primary (Year 3 to 6), SRKs would transition to a bilingual approach of either Bahasa Malaysia or English. Students will continue to learn their mother tongue or an additional language.
Religious classes would be left to after school-hours but lessons on all major faiths would be included thematically as part of school projects.
To Chan, the most effective way to foster national unity would be to encourage a culture of openness and dialogue in schools. This would equip both students and teachers with the tools to resolve unavoidable cultural differences or friction.
"4R School" – Wan Wardatul Amani Wan Salim
IIUMassistant professor in Biotechnology Engineering and member of think tank Adiwara Avengers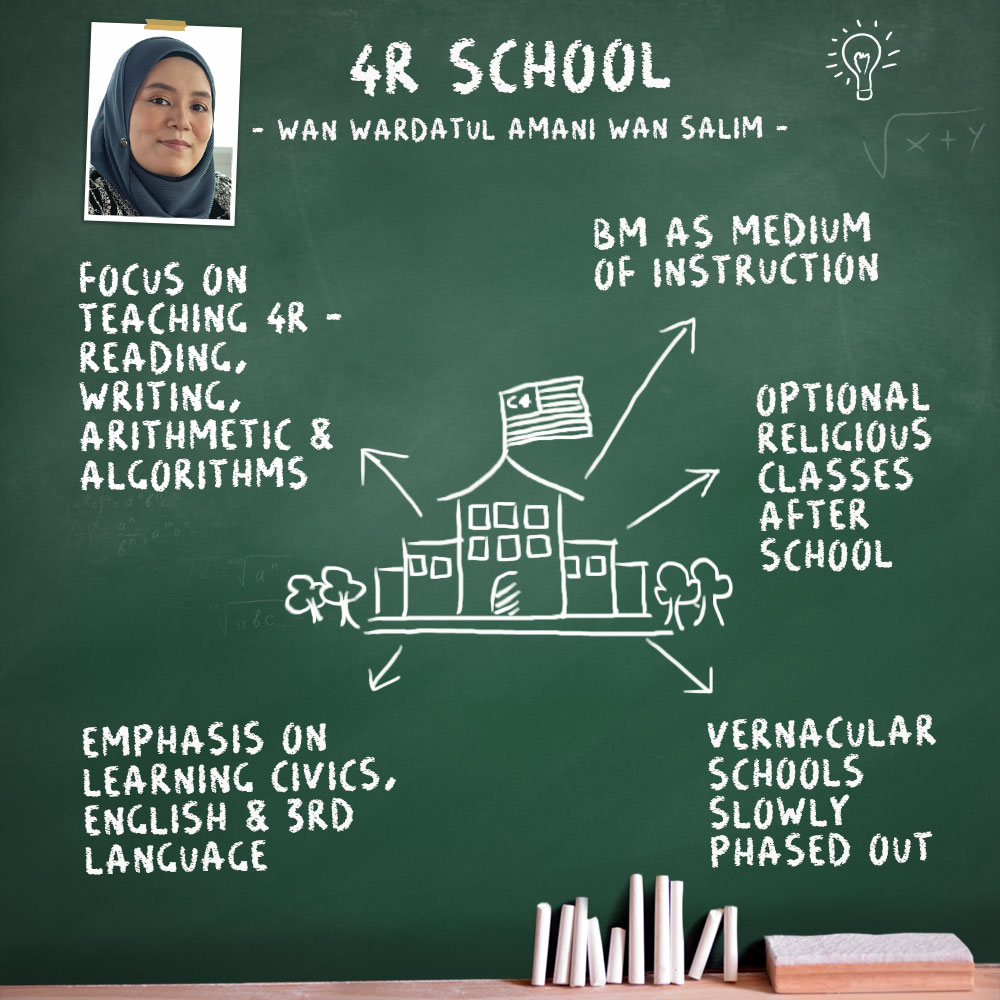 For Amani, SRKs ought to redirect their focus to equipping students with four foundational skills – Reading, Writing, Arithmetic and Algorithm. These "4R" skills will enable students to master more complex subjects in the future.
Classes would be conducted in Bahasa Malaysia as this would unite the students while teachers would be given a free rein to explore fun teaching methods.
Amani said her ideal SRK would teach "rigorous" English classes. Moral and civic values would be inculcated throughout the curriculum rather than appear as standalone subjects.
Students would be encouraged to learn a third language but classes, along with religious education, would be reserved for after school hours.
Like Teo, she preferred a unified education system and believed that improving the SRK would see vernacular schools naturally being "phased out".
"Parental Input School" – Chong Kok Boon
Sunway University senior fellow in Education Reform & Energy Policy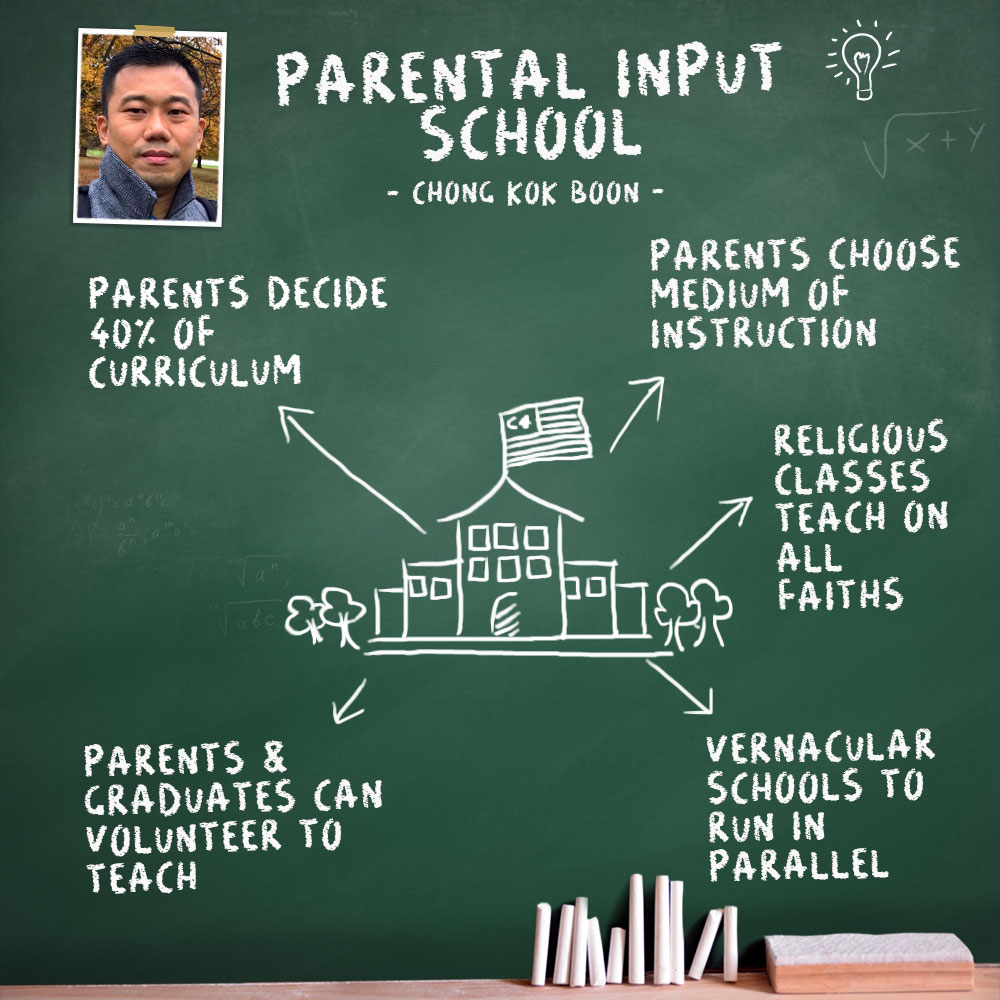 Perhaps the most radical idea is from Chong, who suggested that the national curriculum be decentralised so that parents could have a far bigger say in what their children learn at school.
In his ideal SRK, parents will decide the medium of instruction, additional subjects, extra-curricular activities and even the type of punishments given to students.
Sixty percent of the curriculum would remain and be overseen by the District Education Department (PPD).
Chong also mooted that parents could be incentivised to teach at schools through tax breaks. Graduates with outstanding PTPTN loans could also volunteer to teach part-time to help repay what they owe.
Not only would this make education more responsive to local needs, but he believed this would also make the system more adaptable. For example, world events like a global financial crisis could be taught.
Chong forecasted that this would help draw students back to SRKs.
"Malaysia National Character in schools" – Denison Jayasooria
UKM principal research fellow in Ethnic Relations & Public Policy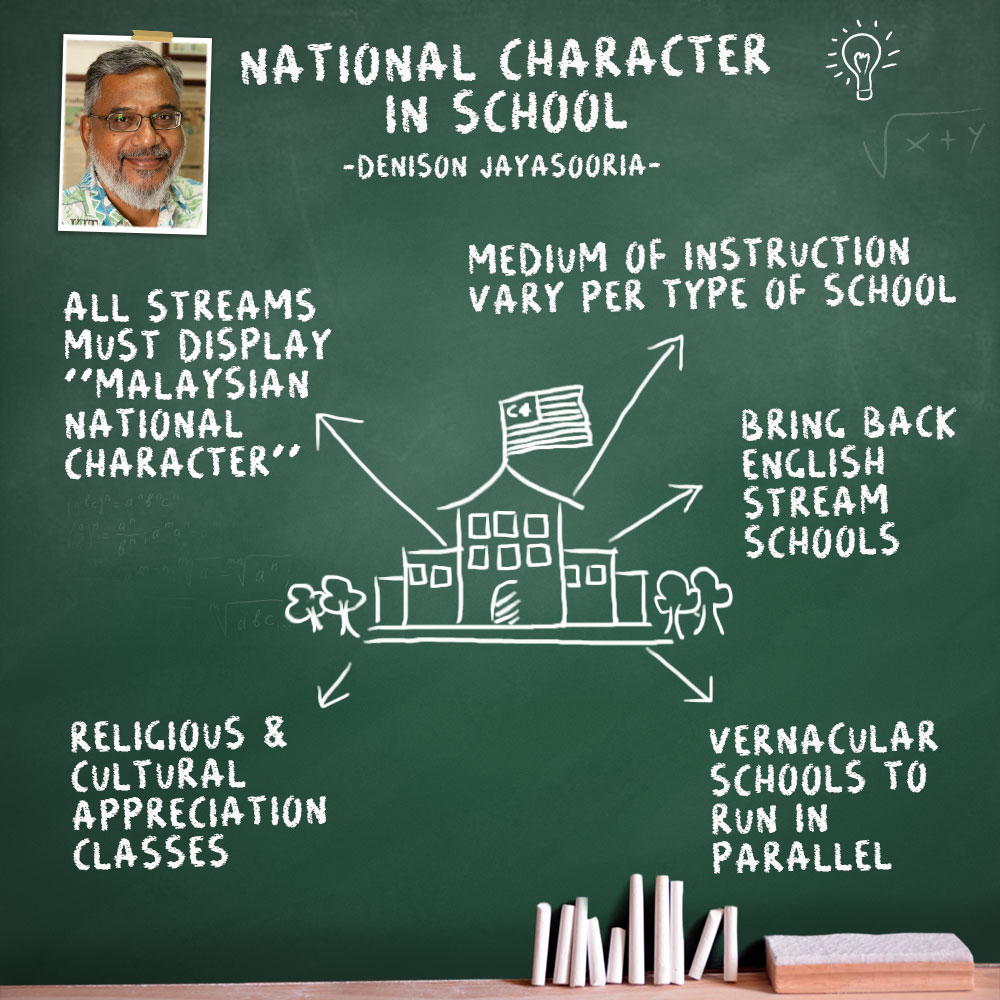 For Denison, all the different education streams – national, vernacular and religious – enrich Malaysia's national heritage and ought to be celebrated.
However, the one thing he finds missing from them is something he calls the "Malaysian National Character".
He proposes that all school types display and instil this character, using techniques like holding assemblies in Bahasa Malaysia, teaching cultural appreciation classes and celebrating the festivals of all races and religions.
This, he believes, will allow students to develop a multicultural mindset and unite them, regardless of which school they attend.
Denison also mooted the return of English-medium schools, which run parallel to the Bahasa Malaysia-medium schools, just like Chinese-medium and Tamil-medium schools.
He believes that this will draw more parents and children of various socio-economic backgrounds back to the national education system.