By Shakira Buang, Annabelle Lee
Like any Form Five student, Nurul Aini Zamri is concerned about her SPM examinations, albeit its postponement to next year.
Under usual circumstances, school is a mere 10-minute walk from her home in Kampung Orang Asli Pulau Indah, Port Klang.
However, with it now closed and teaching and learning moved online, Aini has found herself completely disconnected.
"We don't have a computer, we don't have a laptop," she told Malaysiakini when interviewed at her house recently.
The Mah Meri teenager needs to pass Bahasa Malaysia and History to graduate secondary school, but slow internet speed in her village means she has not been able to download revision exercises that her teacher shares in the class' WhatsApp group.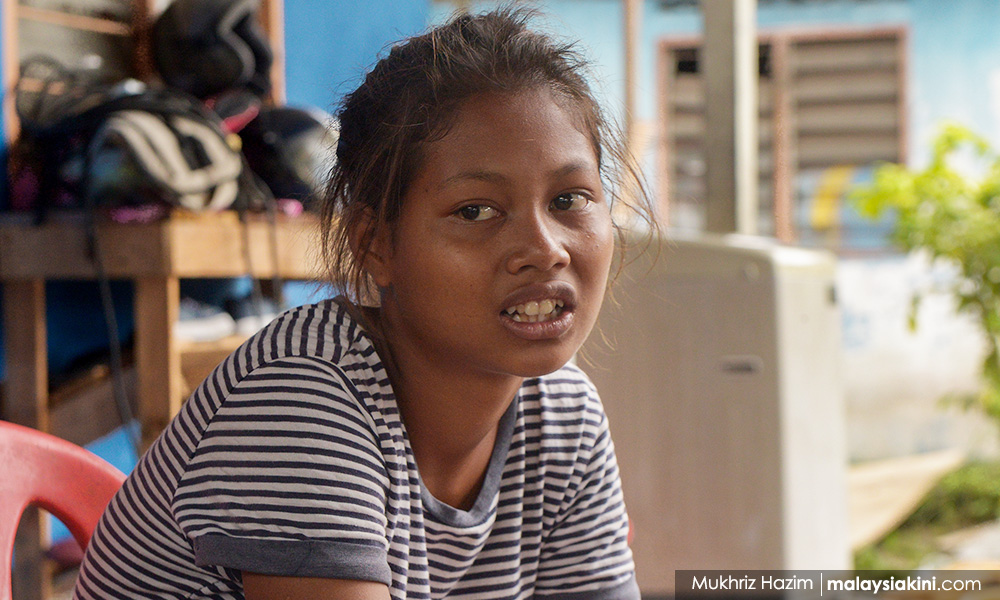 Nurul Aini Zamri
She can see the text-based lessons on the group, but finds them hard to follow without someone explaining them to her. Her classmates, who largely ignore her because she is Orang Asli, are not helpful either.
Mobile internet data on her father's mobile phone is fast running out, but buying "top-up" is not as important as putting food on the table right now.
Her parents catch and sell seafood for a living and have not been allowed to work since the movement control order (MCO) began.
Food vs data
Experiences like these were a common thread in Malaysiakini's conversations with parents about e-learning.
Like Aini's parents, Suriayana Mohammad struggles to get fast-enough internet speed to download school work for her two children onto her smartphone.
They live in metropolitan Kajang.
"The government is giving free internet but people are all staying at home now so the speed is very slow. We have been finding it hard to download (school) activities for the kids.
"We have been facing this problem in the city, but what about those in the kampung?" she wondered.
For some working parents, the added responsibility of supervising home-based learning was stretching them too thin.
Even with sufficient internet and devices, Nadirah R from Shah Alam struggles to divide her time between working from home, doing house chores and being a teacher to her children.
"Now I need to multitask as my work hours are also their school hours. There is a clash.
"The problem is when I need to cook, look after my younger children and organise the house all while I work or else my boss will get upset with me. How can I do this?" she exclaimed in a phone interview with Malaysiakini.
For Puchong homemaker Jumiati Ilyas, fixed broadband is one of the many things her family has had to sacrifice to minimise expenses.
This means her three school-going children will miss out on e-learning initiatives, but this is the best she can manage for now.
"I understand the need for my kids to study at home during the MCO. But my husband has not been able to go out to work, so I had to do it (cut the internet).
"I am more worried about being able to provide food and drink to my kids," she told Malaysiakini.
The digital divide
For many households across the country, fixed broadband is a luxury.
Even in the most industrialised states in the country, data from the Communications and Multimedia Ministry showed that less than 15 percent of people had access to home internet.
In less-developed states, the number was far more meagre.
As of the second quarter of 2019, 14.7 percent of Putrajaya inhabitants had fixed broadband – the highest in the country. Selangor was a close second with 14.4 percent while Kuala Lumpur was third with 13.4 percent.
In contrast, only 2.1 percent of Kelantan inhabitants had home internet while in Sabah it was 2.6 percent.
That said, Malaysians appear to rely much more on their mobile phones for internet access.
According to Q2 2019 data from the ministry, mobile broadband penetration among Kuala Lumpur inhabitants was at 246.4 percent.
The trend of having several mobile internet subscriptions per person was similarly seen in Johor, Malacca, Negeri Sembilan, Perak, Penang, Sarawak and Selangor.
In Sabah, however, only 78.3 percent of inhabitants had mobile broadband.
Earlier this week, Education Minister Radzi Jidin said the ministry had conducted a survey on 670,000 households and 36.9 percent said they had access to no electronic devices at all.
Only six percent had personal computers and even less (5.7 percent) had tablets.
Smartphones were more commonplace at 46 percent.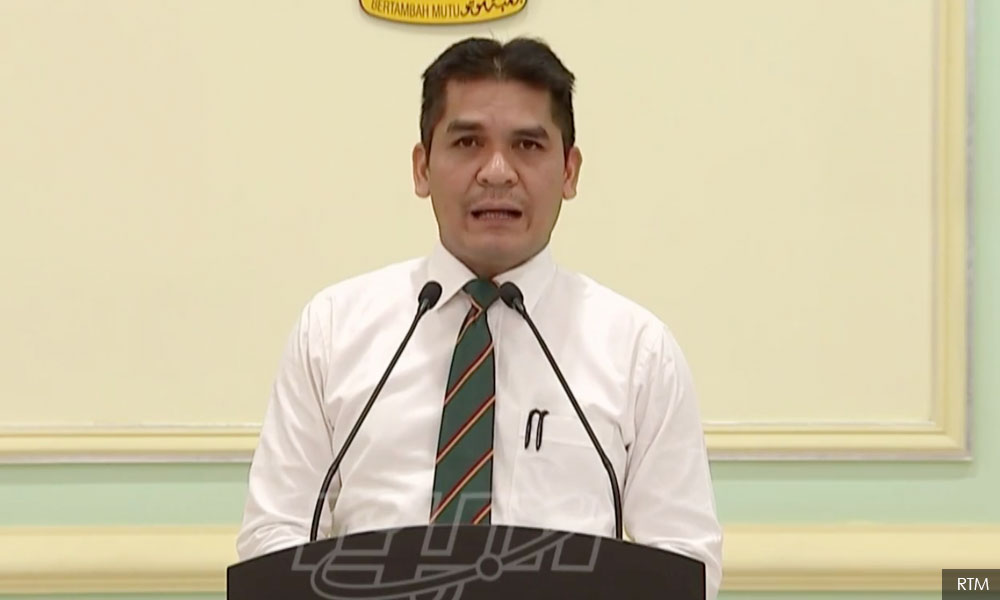 Radzi Jidin
When WhatsApp fails to work
In light of the disparity, Radzi said he recognised the barriers to e-learning and urged teachers to adapt their teaching methods to these limitations.
However, in both urban and rural areas, teachers told Malaysiakini that they were facing challenges in finding a method that worked for the whole class.
For one educator in a Petaling primary school, some of her students had the means for such learning but others, usually those from low-income families, struggled to access data-heavy tools like Google Classroom, Microsoft Teams or Zoom.
According to Australian internet service search engine WhistleOut, a one-hour Zoom group video call at 720p needs 1.35GB of data.
Therefore for families that rely on mobile internet for work and school, an extra 1GB daily from the government might not be sufficient to support daily Zoom classes.
Under these circumstances, the simple messaging app WhatsApp was more feasible.
Even then, some were missing out.
"WhatsApp is a problem for those parents who have phones that can't access the internet, especially full-time homemakers," shared the teacher on condition of anonymity.
Educators in rural areas were also using WhatsApp, but this was reaching only a fraction of students.
An English teacher at a secondary school in Semporna, Sabah, Yong Lin Li, has been out of contact with about 40 percent of her students since the MCO began.
For those she is able to reach, she designs her lessons around the many limitations they face at home.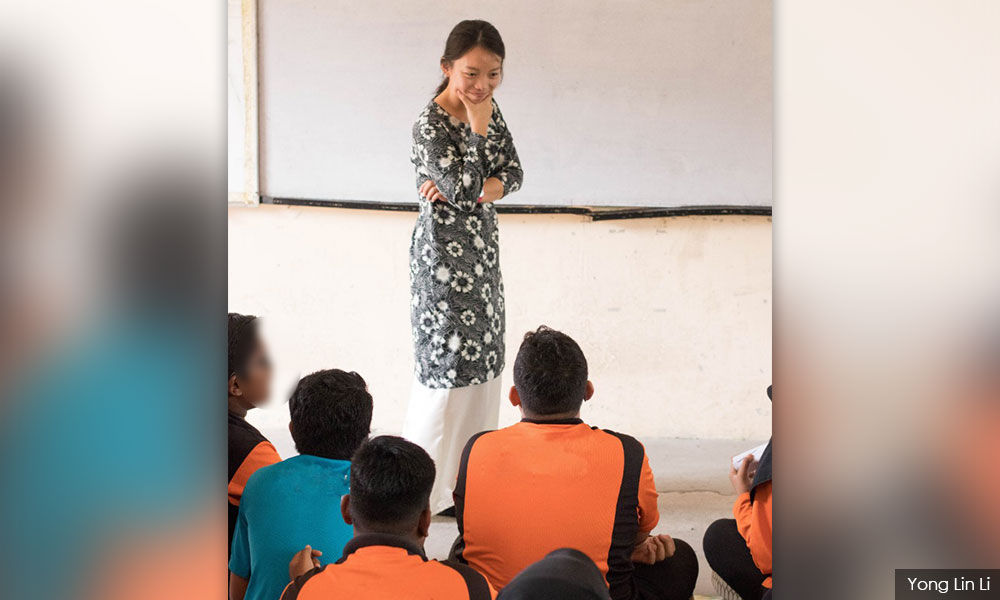 Yong Lin Li
Every Monday morning, the Teach for Malaysia (TFM) fellow issues writing or short video exercises on WhatsApp groups with her classes. Students have until Wednesday to submit their homework.
"I don't conduct classes every day. Because let's say if on Monday a student doesn't have any internet and can only reload on Tuesday, they can still pick up," she shared in an interview with Malaysiakini.
Another consideration was the amount of time her students could spend on their parent's electronic devices to complete their assignments.
Due to frequent internet disruptions, Yong admitted that keeping students engaged was a challenge.
"In some classes, I can get homework back from half my students. In other classes, maybe only four to five students consistently do the work," she said.
Also facing low engagement rates in her WhatsApp-based lessons was fellow TFM English teacher Julianna Rushdi, who is only in contact with half her students.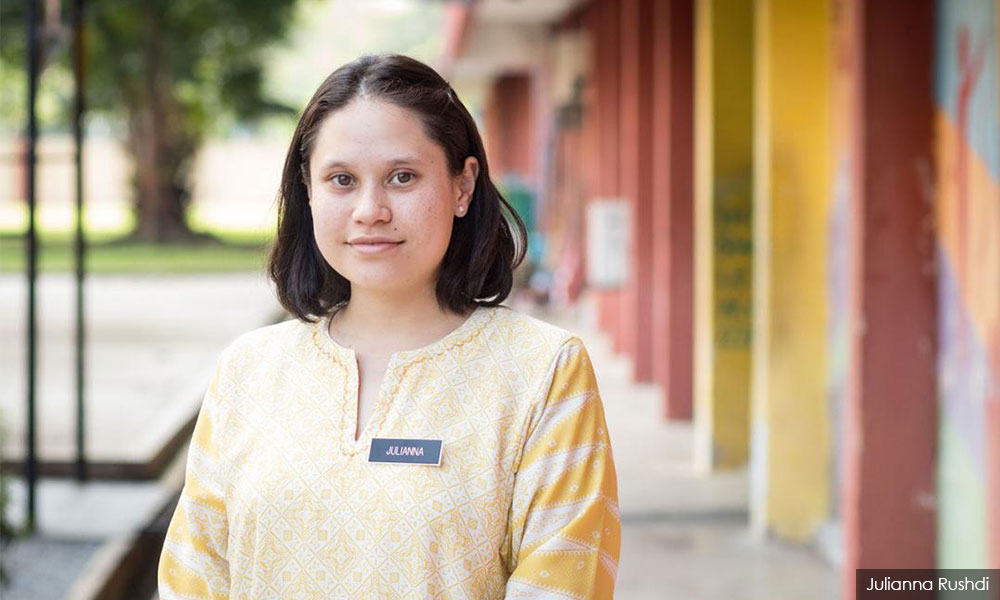 Julianna Rushdi
Placed at a different Semporna secondary school that had several stateless students in every class, she observed that those who needed more attention were often the same students who struggled with e-learning most.
"Definitely students from the front classes are the ones doing more work […] if the family has a little more money, they will usually be in the front class and they can study at home.
"But students in the back classes, some of their family conditions are not so good and it is very hard for them to study at home. Or they don't have a phone and I can't contact them," she said.
After five weeks out of the classroom, Julianna said it was becoming increasingly challenging to virtually supervise and motivate her students.
"They are teenagers, so they rather use the (free) 1GB to watch Instagram, play games and watch Youtube. They waste the 1GB actually, but we can't force them to do work for the whole day.
"It is quite difficult to control this," she shared.
Step in or they fall behind
Be it in rural or urban areas, households are struggling to adapt due to a lack of hardware, high-speed internet, internet data and time for home-based e-learning.
In turn, these conditions are making it difficult for teachers to engage with students during the MCO, especially those from lower socioeconomic backgrounds.
While it is a relief that public examinations have been cancelled or postponed, news that schools could remain closed for even after the MCO is lifted has teachers concerned that even more students could slip through the cracks.
Julianna hopes the Education Ministry will streamline the curriculum, teaching methods and monitoring mechanisms for home-based learning.
Yong, meanwhile, wants the ministry to step in to minimise the digital divide.
The Singapore government, for example, loans out laptops, tablets and internet dongles to enable needy students to participate in home-based learning.
Yong suggested that hardcopy reading material could also be made available to such students.
Educational television programmes on TV Okey could be supplemented with lessons broadcasted over the radio.
"Or else, there will definitely be some side effects. There will be a gap between those who have access to online materials and those who don't.
"For sure, they will be a bit behind," she said.