By Annabelle Lee
As the Finance Ministry moves to pare down the cost of the underground portion of the MRT2 project, new information suggests that contractors MMC-Gamuda had subcontracted several portions of the project to competitors who joined the bidding process.
In April 2016, Putrajaya's One-Stop Procurement Committee, chaired by then-prime minister Najib Abdul Razak, had awarded the contract to a joint venture company involving MMC Corp Bhd and Gamuda Bhd (MMC-Gamuda).
Two other China-owned firms participated in the bid – the China Communications Construction Corporation (CCCC) and China Railway Engineering Corporation (Crec).
There were originally eight companies who were interested in the bid, but only five made it to the pre-qualification stage.
This tender process adopted a 'Swiss challenge' format. According to a World Bank working paper, this requires bidders to offer counter proposals to the one tabled by the original proponent of the project.
If a counter-proposal is found to be superior, the original proponent is given the chance to either match it, or turn it down and allow other firms to win the bid.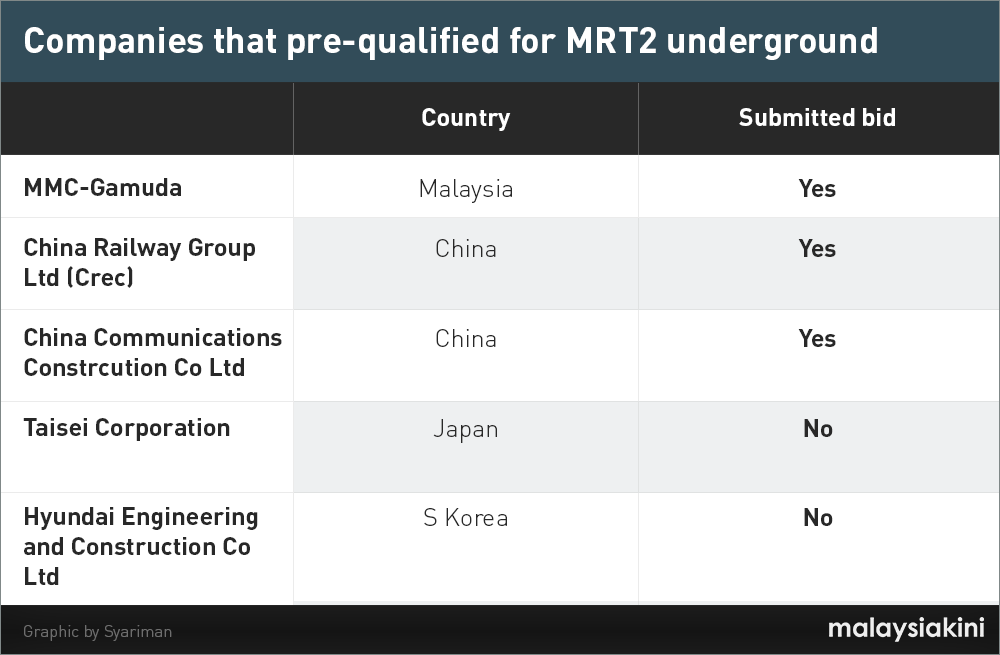 For the MRT2 underground project, MMC-Gamuda was the original proponent. They were appointed as the designers and main contractor – what Putrajaya called the project delivery partner at the time – of MRT2.
When announcing the result, MRT Corp CEO Shahril Mokhtar said that the successful bid had not only scored the best during technical evaluation but also offered the government the "lowest price" of RM15.47 billion.
However, Malaysiakini has learned that CCCC and Crec did not lose out entirely, as their subsidiaries or companies in which they have interests were engaged as subcontractors by MMC-Gamuda.
---
Kiniguide: A track-by-track deconstruction of the Najib-era MRT deal
---
Everyone's a winner
CHEC Construction (M) Sdn Bhd (Chec), a Malaysian subsidiary of CCCC, states on its website that it was awarded contracts for Underground Package A, Package B and "trackworks, maintenance vehicles and work trains" for MRT2.
It is unclear what Package A and B are, as MMC-Gamuda declined to comment for this article.
On another website, Chec was listed as a contractor for the underground Titiwangsa MRT2 station.
Crec, which set up shop in Malaysia as Crec Construction (M) Sdn Bhd (Crec Malaysia), secured work packages through three of its subsidiaries – Nanyang Tunnel Engineering Sdn Bhd (Nanyang), Dongfang Tunnel Sdn Bhd (Dongfang) and Crec Geotechnical Engineering (M) Sdn Bhd (Crec Geotech).
Dongfang is listed as responsible for the underground Bandar Malaysia North MRT station and the Desa Waterpark South Portal.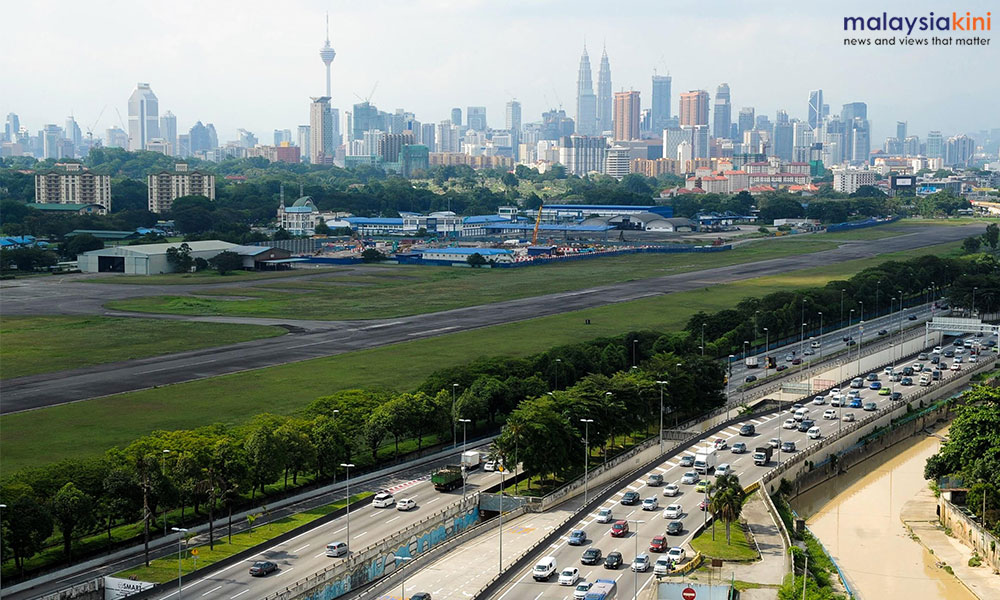 Nanyang made news last year when three of their staff died following an explosion at the Bandar Malaysia South underground station work site in October. Police said that the explosion was caused by a World War II-era bomb.
Meanwhile, Crec Geotech is listed as involved in building two underground stations – the Bandar Malaysia South station and a tunnel for the Titiwangsa station.
Companies Commission of Malaysia (SSM) records show that Crec Malaysia, Nanyang, Dongfang and Crec Geotech all share the same business address, registered address and company secretary.
Two directors at Crec Malaysia were listed as the director and shareholder at Nanyang.
'One contractor can't do everything'
Although this arrangement may appear to be a conflict of interest to some, political economist Terence Gomez told Malaysiakini that it was "not unusual" for contractors of mega infrastructure projects to subcontract portions to their bid competitors, especially if the latter had expertise in certain fields.
"When they (contractors) win a bid, they may go and subcontract to other bidders because (the other bidders) may have certain expertise in other areas which they want them to handle.
"They would have also sought to get the best subcontractors in order to build it at the best possible quality too… If you can use them, use them. This is not unusual.
"In most cases, there is no one contractor who can do everything," he said when contacted to comment on CCCC and Crec's involvement in MRT2.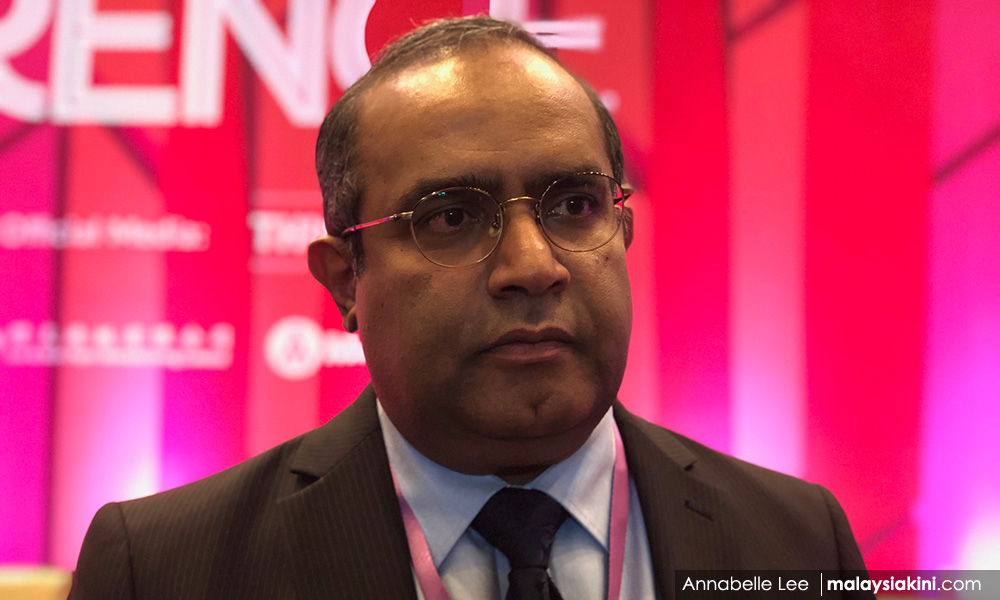 Gomez (photo) noted that project contractors, in this case MMC-Gamuda, usually only awarded subcontracts for work they could not deliver themselves.
"If they can do it on their own, they will do it. Why do they need somebody else to do it when they can do it and keep everything to themselves?" he said.
When contacted, MMC-Gamuda declined to comment.
Putrajaya is attempting to shave the cost of the MRT2 project. It has successfully renegotiated the terms of the overground portion with MMC-Gamuda, trimming off RM5.22 billion.
However, renegotiation on the underground portion collapsed, which has caused the project to be suspended.
MMC-Gamuda subsequently went on a campaign to claim that this would cost massive job losses and a flood of lawsuits.
Putrajaya dismissed the claims, saying that the staffers can resume work once new contractors for the underground portion are hired.