By Annabelle Lee
EXCLUSIVE | A Dubai-based jeweller is seeking the return of items worth more than US$5million, which were purportedly hand delivered to Rosmah Mansor, the wife of former premier Najib Abdul Razak.
According to documents sighted by Malaysiakini, the items, which have not been paid for, were handed over to Rosmah in Kuala Lumpur in March this year.
The items from Adi Hasan AlFardan Jewellery (AlFardan) included a necklace comprising 56 heart-shaped "fancy yellow diamonds", with the biggest stone weighing 10.7 carats. The necklace also comprises 78 other smaller regular-coloured diamonds.
Along with the alterations allegedly requested by Rosmah, it is worth US$2.248 million.
Apart from this, the jeweller also claimed to have delivered a necklace-and-earrings set, which also consisted of yellow diamonds, worth a total of US$3 million.
This necklace was made up of a string of "cushion cut" diamonds amounting to 112.94 carats whereas the earrings, also fashioned in a "cushion cut" manner, weighed a total of 17.84 carats.
According to the Gemological Institute of America (GIA), yellow diamonds are extremely precious and rare, only to be found in the Zimmi mine in Sierra Leone.
In July, the jeweller, through Malaysian law firm Kandiah Partnership, had also sent a recovery letter to Bukit Aman's Commercial Crimes Investigation Department (CCID) chief Amar Singh seeking the recovery of the items.
The letter, sighted by Malaysiakini, stated that Rosmah had explained to the owner Adi AlFardan that the items had been seized by the CCID during its raids of several residences linked to Najib.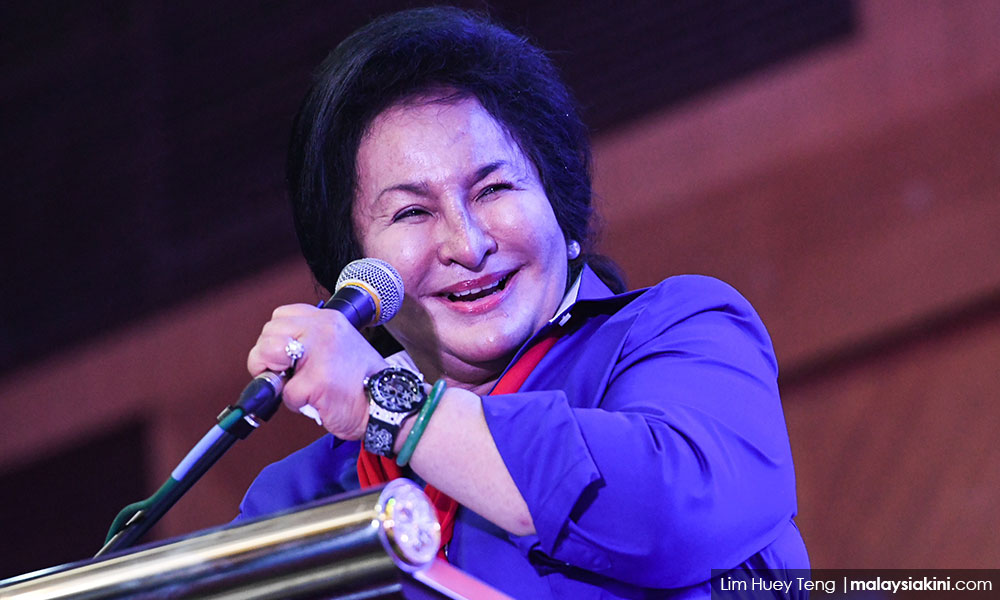 "On June 20, our client (AlFardan) travelled to Malaysia and met with Rosmah at her residence in Kuala Lumpur.
"At that meeting, Rosmah informed Adi that the three jewellery items were among those seized by the police and that she is in no position to make any payments towards the items.
"[…] We (lawyers) have been instructed to assist our client in retrieving the items from the police, if they had been seized. If the items have not been seized, then our client would consider their legal options against Rosmah," read the letter.
The letter requested Amar to confirm if the police were in possession of the items.
"Our client is prepared to cooperate with the police to recover these items for which no payment had been made by Rosmah and the (diamond) titles have not been passed to her," it added.
Contacted later, lawyer Ashok Kandiah from Kandiah Partnership confirmed the letter.
"I can confirm the existence of the letter that was issued by my firm. And we are in the process of taking our client's instructions on further action or legal proceedings against Rosmah Mansor," he told Malaysiakini.
The lawyer also disclosed that the CCID had responded, but it had failed to address the concerns raised.
Malaysiakini has contacted Amar for comment.
Meanwhile, the letter also claimed that Adi AlFardan, in his four trips to Malaysia to deliver the jewellery to Rosmah as well as to request for payment, had often been able to bypass customs and immigration checks.
"On most of his arrivals in Kuala Lumpur, individuals who identified themselves as officers from the Prime Minister's Department met him at the arrival gate and escorted him through the Immigration and Customs checkpoints," it stated.
In June, Lebanese-based Global Royalty Trading had filed a suit against Rosmah over 44 pieces of jewellery comprising a tiara, diamond necklaces, rings, bracelets and earrings were sent to Rosmah.
Global Royalty claimed that while Rosmah had acknowledged receipt of the consignment in writing, the items were no longer in her custody.