By Annabelle Lee
Mohd Faziri Mohd Zaid and his two young children were among the 600 people at this afternoon's Malaysia Climate Strike in Kuala Lumpur.
Braving the haze and the risk of violating the Peaceful Assembly Act 2012's 21-year-old minimum age for attendees, he believed it was necessary to protest environmental destruction and its effects for the sake of his family.
"I have come today because my children have not been able to attend school for the past two to three days due to the haze […]
"I am worried about my children's future, that they will inherit a world that is unhealthy for them. We actually owe them this, because we have taken their future from them.
"Yes, people might be upset with me for bringing children to this demonstration but it is just as bad if we allow them to inherit a bad future. In the future they will also protest," the 37-year-old Cheras native told Malaysiakini when met at the protest.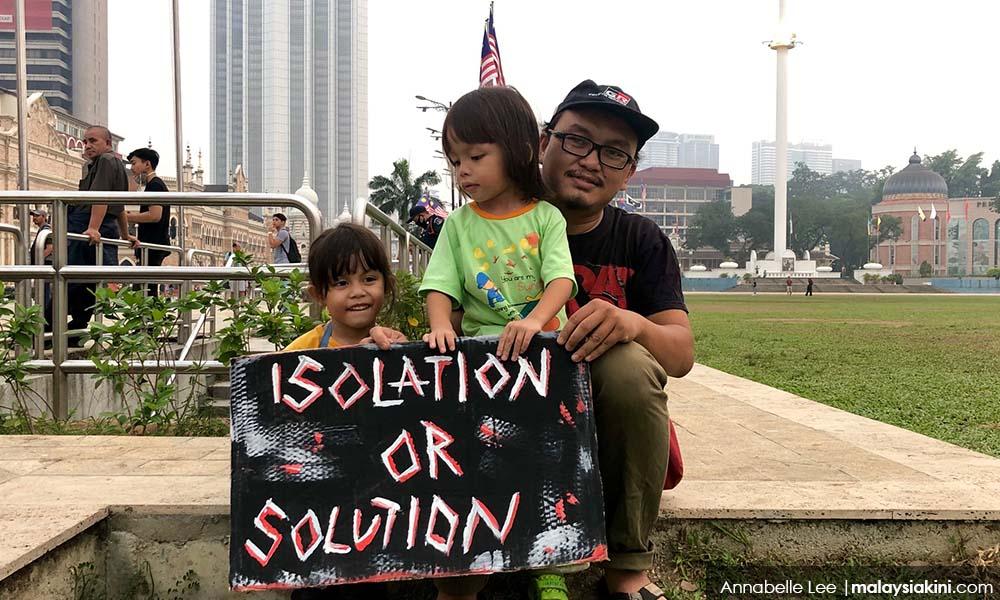 Beginning at about 4:30 pm, climate strike participants marched peacefully from the Sogo Shopping Complex to the Sultan Abdul Samad Building in Dataran Merdeka.
A big portion of the crowd were students, families with children and young adults.
They were observed carrying placards and banners bearing slogans like "Siasat dan Dakwa Syarikat Jerebu" (Investigate and Charge Haze Companies), "Udara Bersih Untuk Semua" (Fresh Air for All), "Protect People not Palm Oil" and "Planet Over Profit".
Marching alongside heavy traffic on Jalan Tuanku Abdul Rahman, the group was momentarily stopped by police and Dang Wangi district police chief Mohd Fahmi Visuvanathan Abdullah was heard instructing organisers to move the growing crowd onto the pavement.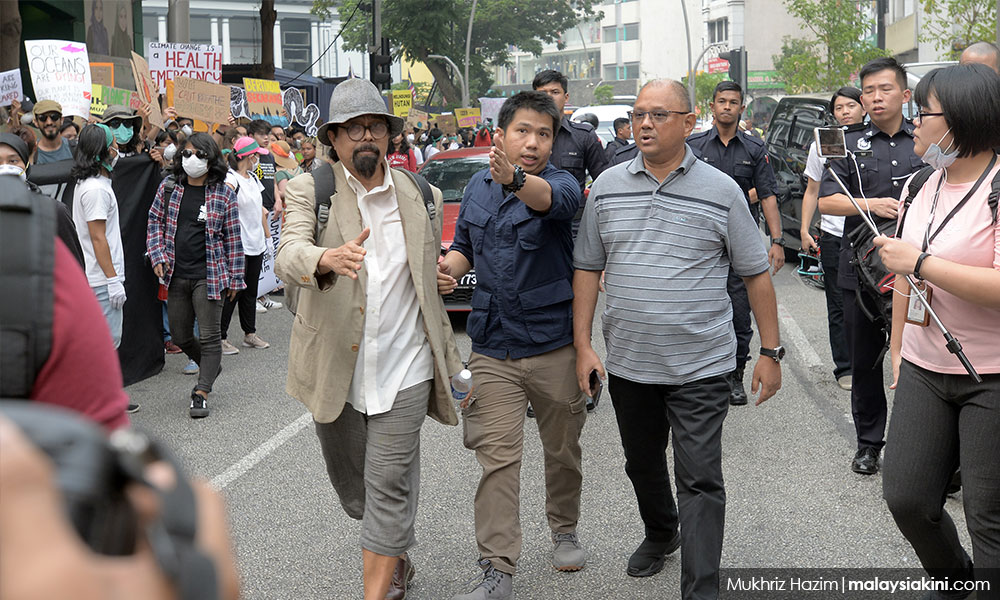 Organisers declined as the pavement was too narrow for the number of participants and instead urged police to seal off the road for safety reasons.
Police later allowed both protestors and vehicles on the road before cordoning off Dataran Merdeka from motor traffic.
Demand for transboundary haze law
Organised by climate justice group Klima Action Malaysia (Klima) along with international NGOs Greenpeace and Amnesty International, the climate strike had 11 demands.
Among them were for investigations and stern action against corporations who contributed to the ongoing haze crisis; bans on government-linked companies from working with companies contributing to the haze and a new transboundary haze law.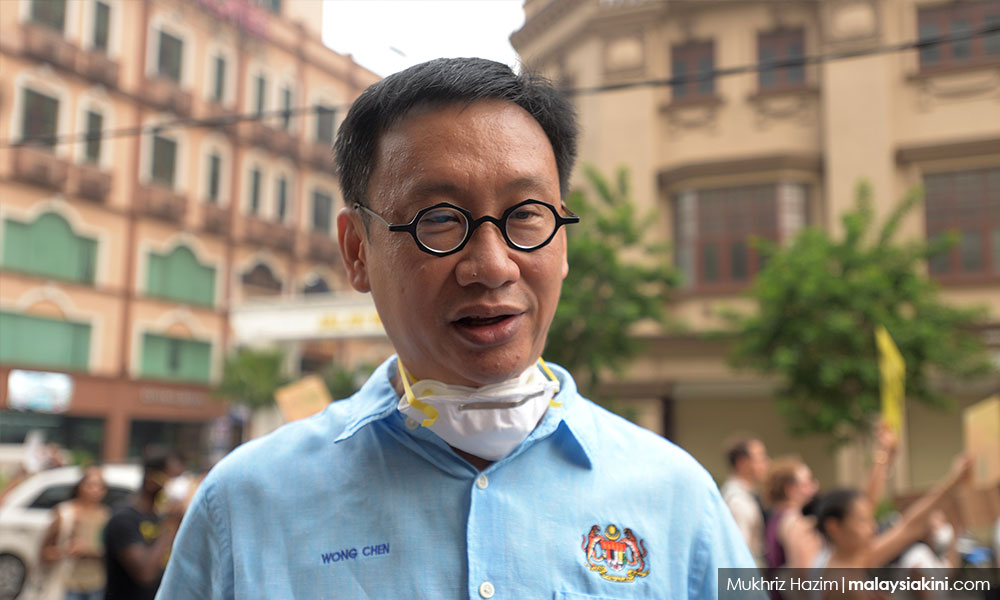 Addressing the crowd at a gathering after the march, Subang Jaya MP Wong Chen admitted that climate change was not a top priority in Malaysia and this was met with a loud "Boo".
The PKR backbencher agreed with using legislation against companies for causing the haze and further mooted the idea of a carbon tax for those who produced the most carbon dioxide emissions.
"The single biggest polluters in Malaysia in terms of carbon dioxide emissions are the power plant owners. They single-handedly contribute 80 percent of the carbon emissions in Malaysia.
"[…] their profits are crazily obscene! That is why they should pay a carbon tax on the issue," he said to which the crowd cheered in agreement.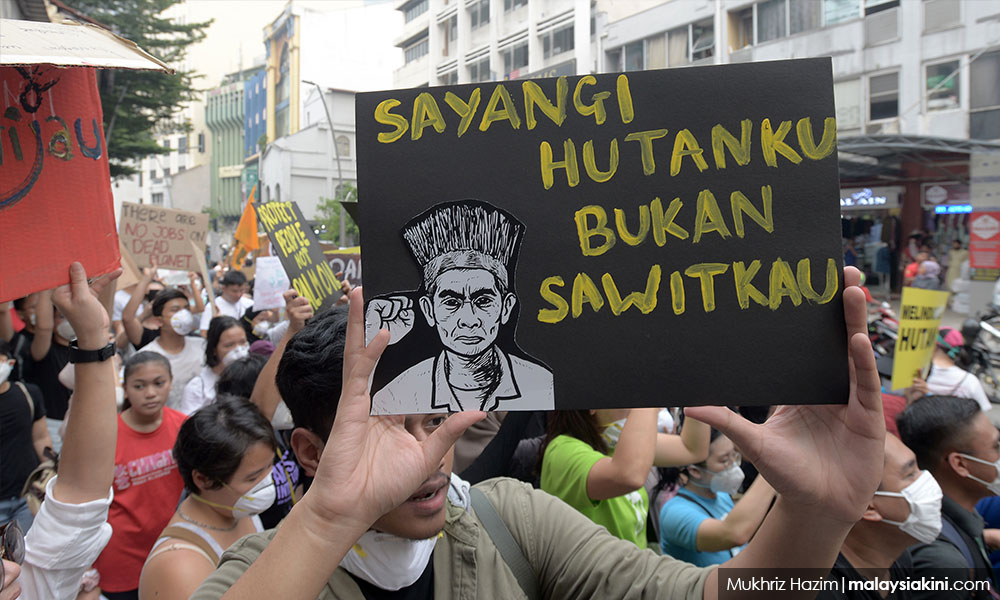 Other speakers were 11-year-old primary school student M Sasiharini, veteran activist Hishamuddin Rais, Jaringan Orang Asli Kelantan president Mustafa Along and Temiar Orang Asli community leader Dendi Johari.
The strike ended with a "die-in" where participants lay down on the road while Klima coordinator Ili Nadiah Dzulfakar read aloud the strike's demands.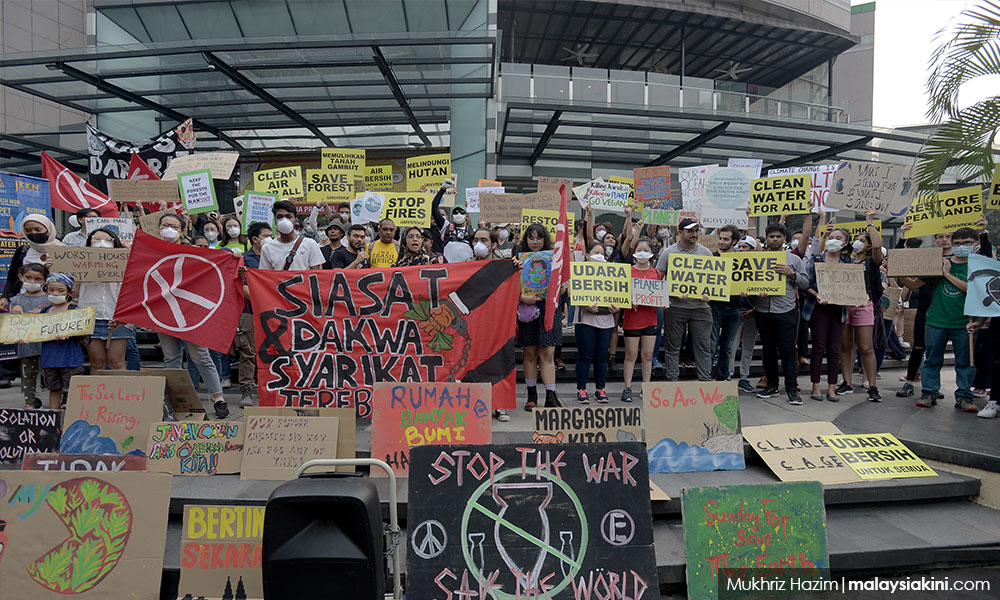 Today's climate strike in the capital took place amidst a global, youth-driven protest against inaction over environmental destruction.
Led by 16-year-old Swedish environmental activist Greta Thunberg, more than 250,000 people demonstrated in New York City yesterday. Media reports estimated that some four million worldwide joined in the movement.