By Annabelle Lee
INTERVIEW | Serba Dinamik Holdings Bhd says it is committed to delivering all five long-awaited biogas plants to Felcra Bhd by 2021.
Speaking to Malaysiakini, chief financial officer Syed Nazim Syed Faisal explained why and how the oil and gas group came to be involved in the renewable energy project.
The listed company stepped-in last year by purchasing a 25 percent stake in Green & Smart Holdings PLC. It also took over from the latter's subsidiary as the turnkey contractor.
According to Nazim, the acquisition was part of the company's diversification plans.
"The intention of Serba Dinamik to acquire Green & Smart Holdings is, of course, to enhance our capability to position ourselves as the total engineering service provider.
"I think for the last few years, Serba Dinamik has tried to go into more green and renewable energy initiative(s). And our positioning in Green & Smart Holdings will allow us to actually get a better traction in the industry," he said when met at Felcra's head office in Kuala Lumpur recently.
The interview was in response to Malaysiakini's reporting on the Megagreen project.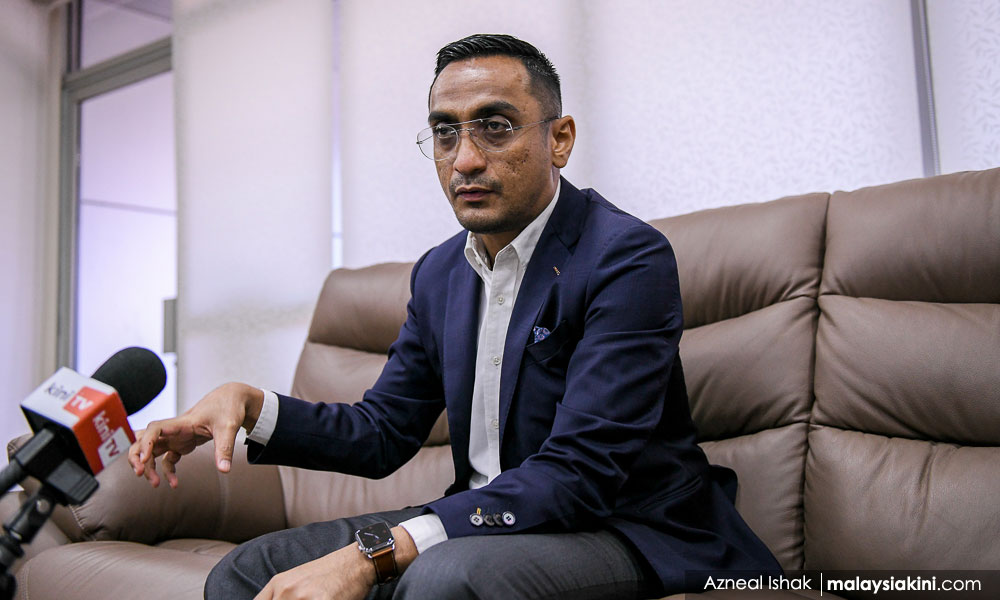 Nazim noted that Green & Smart Holdings was listed on the Alternative Investment Market (AIM) – a sub-market of the London Stock Exchange for smaller firms.
2021 target amidst license woes
Back in December 2014, Felcra signed an agreement with Megagreen Energy Sdn Bhd to finance, build, operate and own the five plants.
Green & Smart Holdings' subsidiary Green & Smart Sdn Bhd was a minority shareholder and operated as original the turnkey contractor.
In 2016, the project stalled after Megagreen ran into financial trouble.
After last year's change of government, Felcra's new management reported the project to the MACC. Bung Moktar Radin, Felcra's ex-chairperson and a former director at Megagreen, is set to be questioned as part of the anti-graft agency's probe.
Meanwhile, the project recommenced with the involvement of Serba Dinamik.
Previously found to be non-operational, two Perak biogas plants (Nasaruddin and Seberang Perak) are now slated for completion in the first quarter of 2020.
However, issues remain with three other plants located in Johor (Sungai Melikai and Bukit Kepong) as well as in Pahang (Maran).
Nazim said the Sustainable Energy Development Authority (Seda) rescinded licenses for all three last year as Sungai Melikai was incomplete while Bukit Kepong and Maran were unbuilt.
He assured that this would be addressed.
"We at any point in time can go in (when) Seda opens their e-bidding. We can actually re-bid for the project […]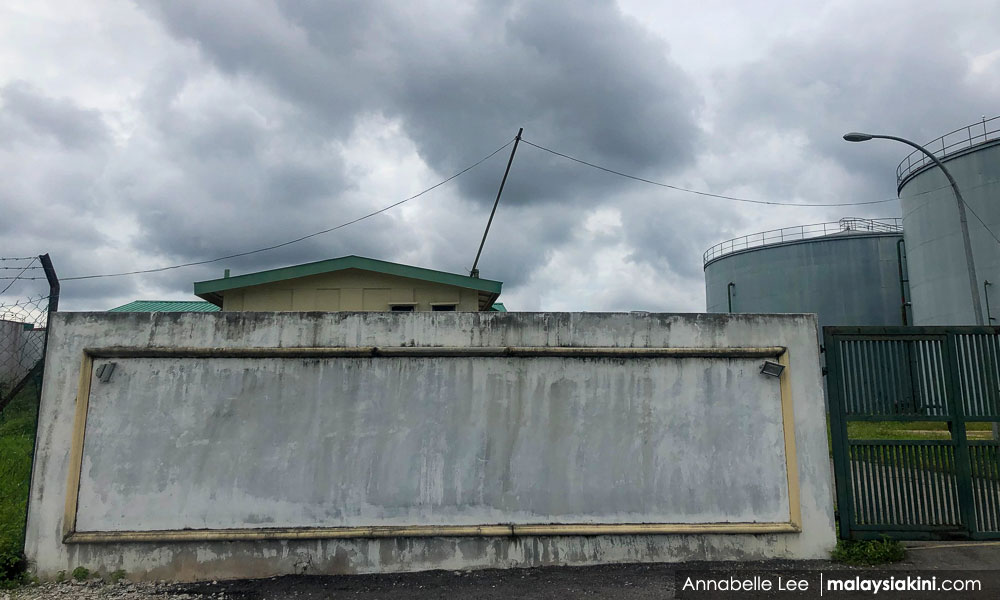 "The speed of delivery also should not be an issue because we already have the structure in place. The design of the plant is already in place and the previous requirements are already in place," he explained.
"Subject to all relevant approval, we hope we can start (construction in the) second half of next year and complete in 2021," Nazim added.
Under Seda, only Feed-in-Tariff (FiT) license-holders are eligible to sell renewable energy to the government at the FiT rate.
Loan 'never been paid'
Construction and licensing problems aside, he revealed that "roughly about RM30 million" of Megagreen's RM35.25 million loan for the project remains unpaid.
Companies Commission (SSM) records show that Megagreen had received the RHB Islamic Bank Bhd loan on Jun 9, 2015.
"The loan had never been paid before […]
"What they (Megagreen) said is that they have paid the interest portion and a certain level of (the) principal amount. We still have quite a substantial amount that we need to settle," he said.
Nazim said there was now a loan repayment plan in place. He stressed that no money from Felcra or its participants had been used, or would ever be used, to make repayments.
Once the two Perak biogas plants are up and running, he calculated that cash flow generated from the energy sold would help settle borrowings.
Grilled on who was primarily responsible for ensuring loan repayments, Nazim pointed to Megagreen's new owner – K2M Ventures Sdn Bhd.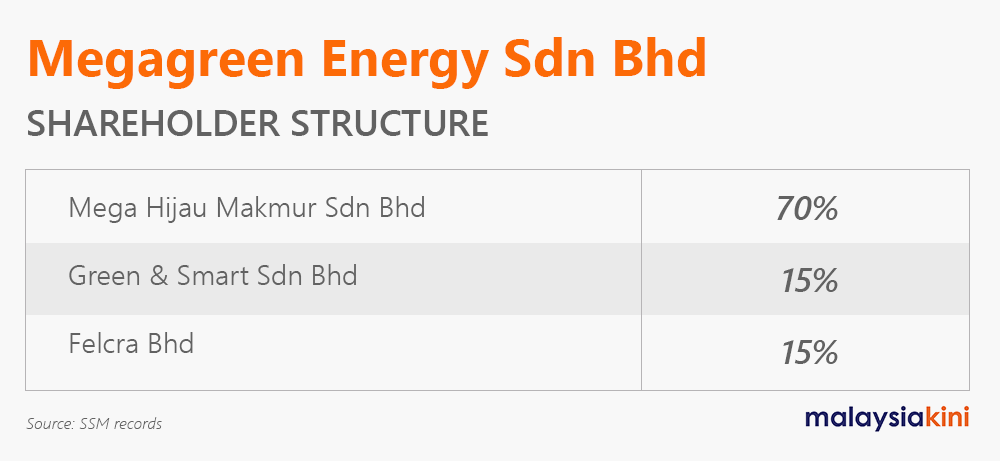 He revealed that K2M was in the process of buying over majority shareholder Mega Hijau Makmur Sdn Bhd's entire stake (70 percent) in Megagreen. The takeover is set to be completed by the end of 2019.
Nazim said he was not privy to the financial amount involved. Megagreen's SSM records had yet to reflect the share transfer at publication time.
Nazim added that K2M's two owners – R Saravanan and B Navindran – had given personal guarantees for the loan. This was on top of the original corporate guarantee by Green & Smart Sdn Bhd.
K2M is also the majority shareholder of Green & Smart Sdn Bhd.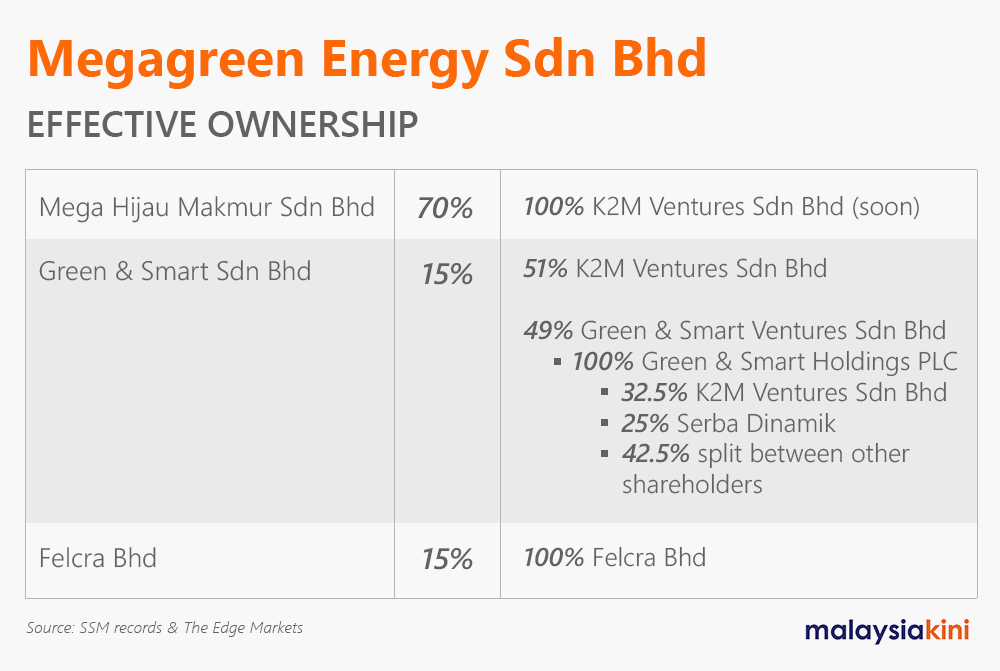 In terms of effective ownership, this arrangement means K2M will own about 80 percent of the entire biogas project once it completes the takeover.
Serba Dinamik, through its shareholding in Green & Smart, will effectively have a 1.8 percent stake.
Nazim said that Serba Dinamik had requested for the K2M takeover before it agreed to step into the picture. This was to minimise its exposure to the loan repayment while still being able to operate as the biogas project's new turnkey contractor.
"The intention was when we took over, for us to move on, we had requested one company which is the biggest shareholder of Green and Smart to actually take over Mega Hijau Makmur's position in Megagreen. K2M Ventures will take over Mega Hijau Makmur […]
"For us, our exposure is already quite sizeable in Green and Smart, so for us (it) is to understand how to manage this," he explained.
New income stream for Felcra
Once overcoming these issues, Nazim believed that the biogas plants would create value for Serba Dinamik.
Aside from entry into the renewable energy industry, the group targets a 15 percent internal rate of return (IRR) from the Megagreen project. He declined to divulge detailed figures.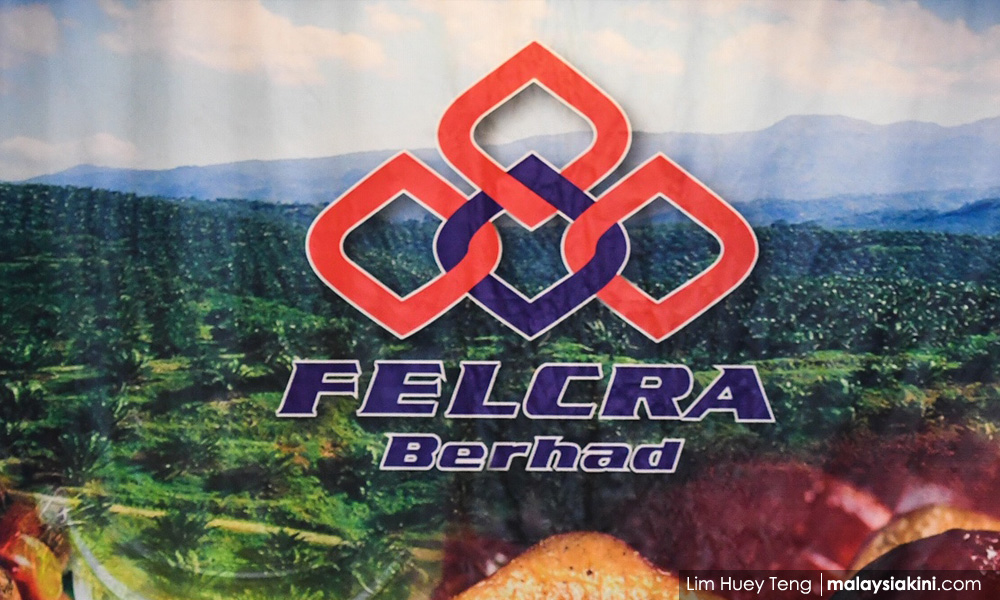 The biogas project is also expected to serve as a new income stream for cash-strapped Felcra. The government-owned corporation's conventional business is in palm oil, rubber and paddy plantations.
Nazim stressed that Serba Dinamik was committed to completing the long-awaited plants.
"The intention is to look into this project and try to save and salvage it the best we can," he said.
"Where Serba Dinamik comes in is to ensure the project delivery is there. We are utilising our manpower, technical and technological skills to ensure that the project can be completed," he assured.
In addition to his role at Serba Dinamik, Nazim was made executive director at Green & Smart Sdn Bhd in Nov 2019. He also holds a directorship at K2M Ventures.