By Annabelle Lee
CORONAVIRUS | A doctor on the frontline of the Covid-19 battle has shared the drastic measures she has taken to reduce the risk of passing on the virus to her two young children.
A medical officer at the intensive care unit (ICU) at Hospital Sungai Buloh, Dr Faiqah Nastasha Mohamed Sam (above) takes several showers in a day.
Like all doctors, she is required to wear personal protective equipment (PPE) when coming in contact with Covid-19 patients. Once leaving the isolation wards, she must dispose of the full suit and disinfect herself.
On her mind during these moments is her five-month-old baby girl, whom she is still breastfeeding.
"I have showered more than five times today because I am still EBM (expressing breast milk).
"I have a five-month-old, and I am still breastfeeding my baby at home.
"So I am super paranoid and thus I shower every time before my four-hourly EBM. Can you imagine?" she wrote in a public Facebook post.
This week, she decided to cut off all her hair to save time when showering.
"Out of frustration, I grabbed a pair of scissors and chopped my hair off.
"Why? Because I can't wait for it to dry even though I have a hairdryer.
"It's horrible and I look like Ronald McDonald. But I have awesome self-confidence to pull it off," she said, adding that her husband and children told her they loved her no matter her hairstyle.
Along with her experience, the doctor shared a photograph of her posing in her full PPE suit. The post has since garnered thousands of shares and comments, plus more than 26,000 likes.
Concerned about exposure
Contacted by Malaysiakini, Faiqah explained that she usually deals with organ transplants but the virus outbreak demanded that all doctors jump on board to treat the flood of patients.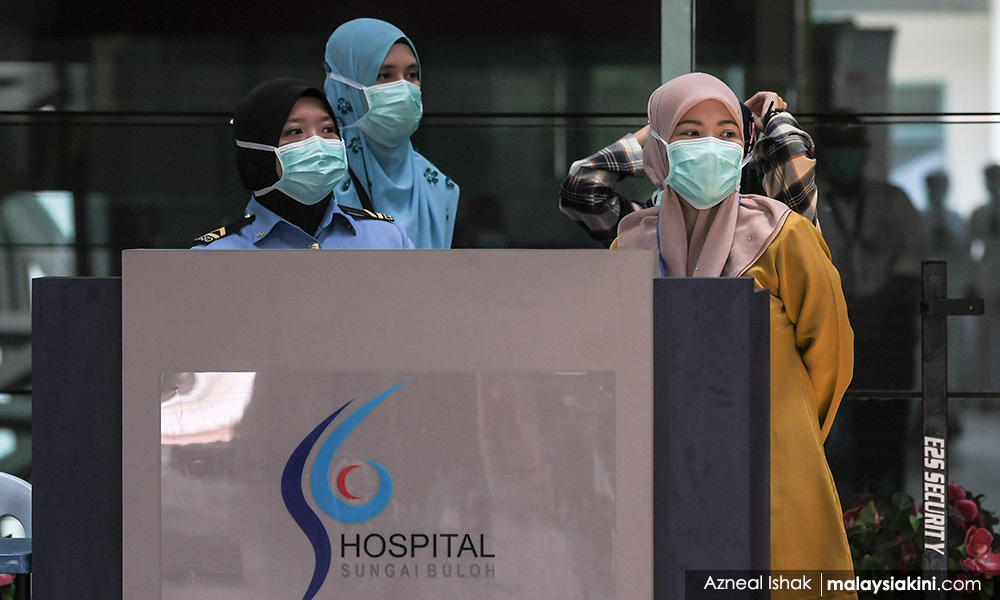 The hospital where she works is the government's designated facility for Covid-19 patients in the Klang Valley, where 37 percent of the country's cases are concentrated.
Of the 673 cases in Malaysia, 250 are in Kuala Lumpur, Selangor and Putrajaya.
Her work hours during the outbreak vary. She is either on an 8am to 5pm shift or on-call duty – where she can be called into the hospital between 8am and 10am the next day.
Beyond the long work hours, Faiqah shared that she was more concerned about her prolonged exposure to the highly contagious virus.
Aside from her baby girl, she also has a four-year-old son.
"When the first patient from the wards entered the ICU, I began fretting like a mad hatter. I will never forgive myself if ever I brought the virus back to my kids.
"That is why I shower over and over again. Even when I get home, I shower straight away and gargle my mouth before I touch my kids.
"My son is too young to understand the Covid-19 part. He just knows that mummy needs to be on call more because a lot of people are getting sick," she said.
Faiqah is one of the 61,158 doctors driving the country's battle against Covid-19. Many more nurses and public health officers are also on the frontline.
The virus has claimed the lives of two Malaysians as of March 16.