By Annabelle Lee
SPECIAL REPORT | It began in early June when Amanda C decided to publicly expose a man for sexually harassing her.
Amanda is not a social media influencer but her move to name the alleged perpetrator and demand accountability from him struck a chord. Her tweets saw over 500 retweets while her Instagram videos garnered more than 20,000 views.
The template caught on, and soon other Malaysian women began sharing their experiences of surviving sexual harassment on social media.
It was not long before Malaysian Twittersphere realised that a few men with a wide following on the social media platforms were being called out by women for their questionable behaviour. The allegations were shared on social media by several thousand users, pushing some men to delete their accounts.
One of these men was Abdul Qayyum Jumadi, co-founder of Englishjer, a popular social enterprise known for its English language programmes at universities.
Later, in June, more than 14 women – some who met him at Englishjer events, including at universities – came forward to claim that he had sexually assaulted them. Some alleged that he had made recordings of the assaults.
Qayyum denied the accusations and offered to contact anyone hurt by him for a resolution.
"Please find a mediator so you can still come forward anonymously for us to find closure. If any of these allegations are proven to be true, I will admit to them," he said in his statement published June 16.
Faced with a Twitter storm, Englishjer announced it was shutting down its operations as it did not have the resources to investigate all the claims.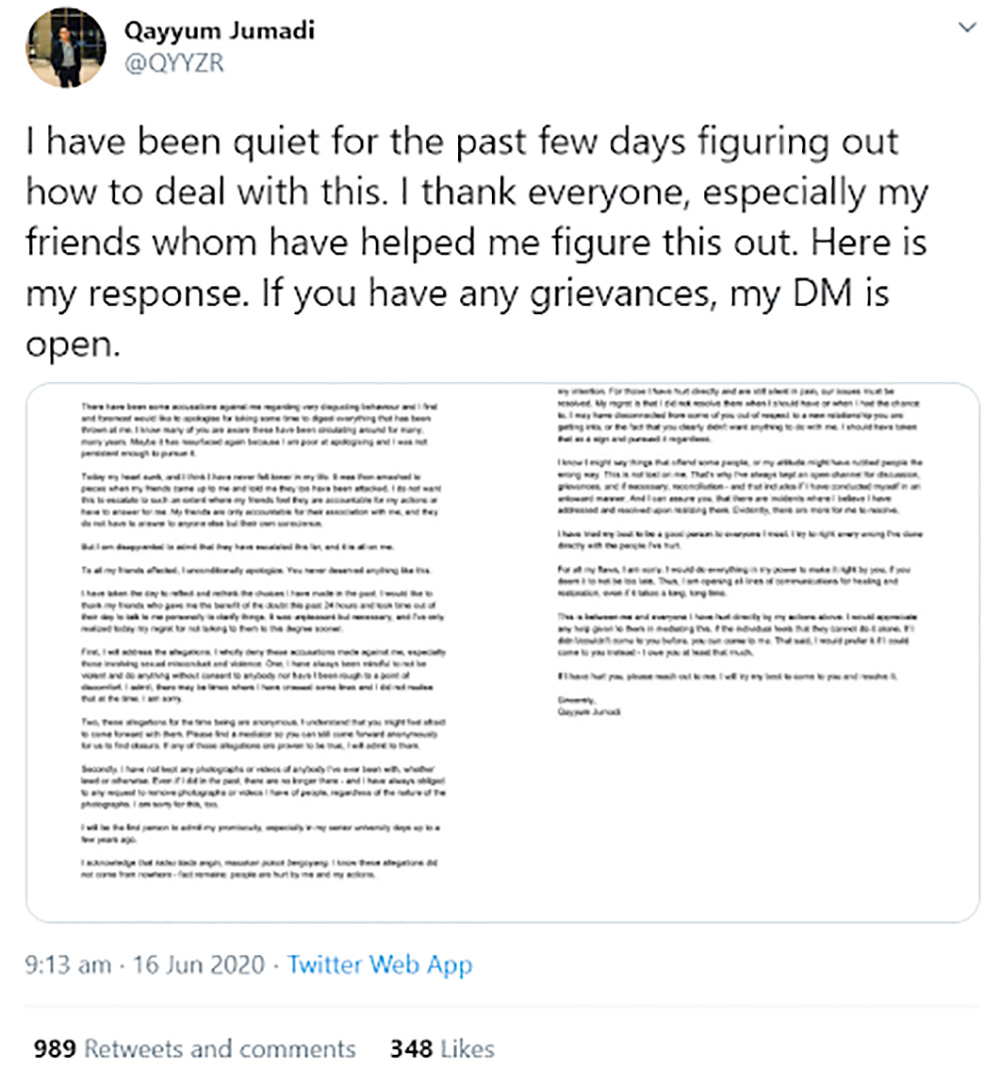 But the allegations had by then made sexual assault a trending topic, prompting more women to name and shame others for allegedly sexually harassing them.
In a culture where sexual harassment allegations are often brushed off or swept under the carpet; this broke new ground – demonstrating how social media can be used to hold perpetrators accountable.
Strength in numbers
In Malaysiakini's conversations with several women who spoke up about their experiences, a common thread emerged.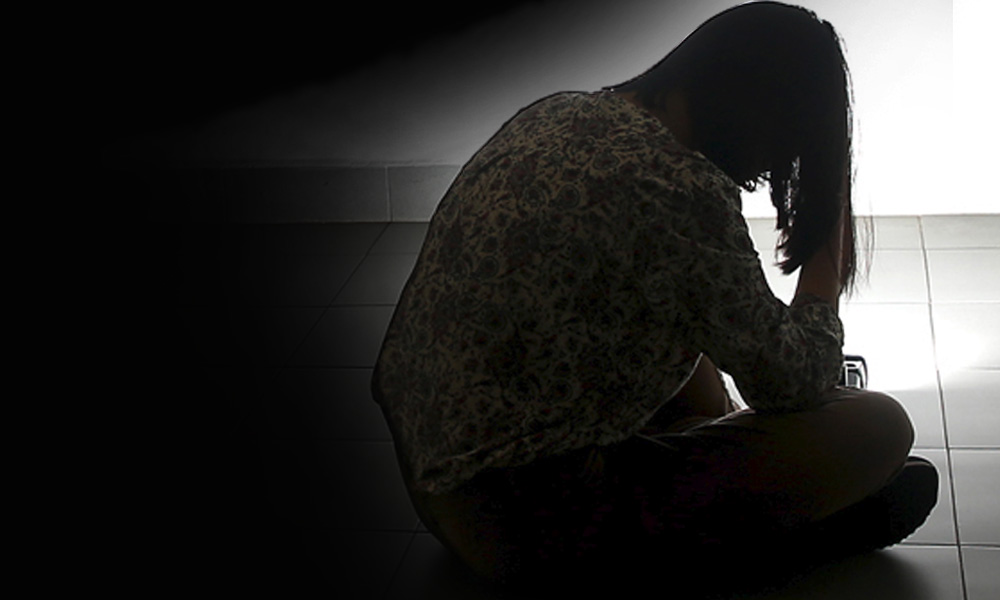 Emboldened by the accounts of other survivors – and assured by the ratio of support to the backlash they received – these women decided to reject the silence expected of them. For some, they were breaking a silence they held for years.
From feeling alone in their shame, almost all described finding solidarity after speaking up. Especially when other women revealed that they, too, had been sexually harassed by the same person.
Reasons for coming forward varied as much as individual stories. Some wanted catharsis while some felt compelled to warn other women about alleged perpetrators and show how widespread sexual harassment is. Others wanted admission and apology.
For Rachel Desiree Ooi, this had been a long time coming.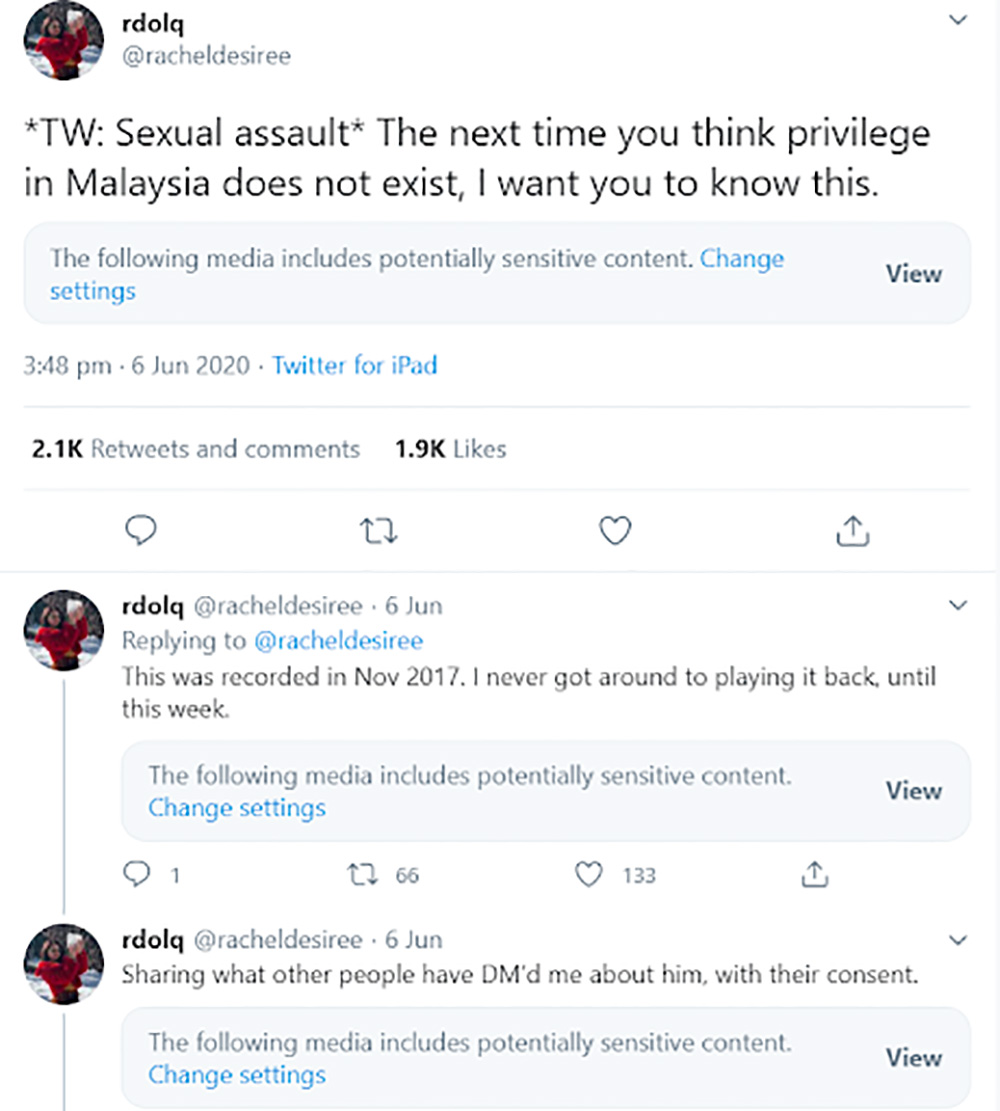 In 2017, Ooi had watched the #MeToo movement in the US and thought about the sexual assault she had allegedly suffered at the hands of a former boyfriend, back when she was aged 14.
At the time, she had mulled lodging a police report against him or engaging a lawyer to take legal action, but she would always find reasons to talk herself out of it, she said.
What pushed her past her thoughts this time was a combination of two things – seeing others come forward and second, accidentally deleting a piece of "evidence", a voice note from the alleged perpetrator, from her mobile phone.
This jolted Ooi into speaking out. The 19-year-old did not settle on just one platform; she took to every social media account she had to describe her alleged abuse and name the alleged perpetrator to ensure her friends and family would read about what had happened.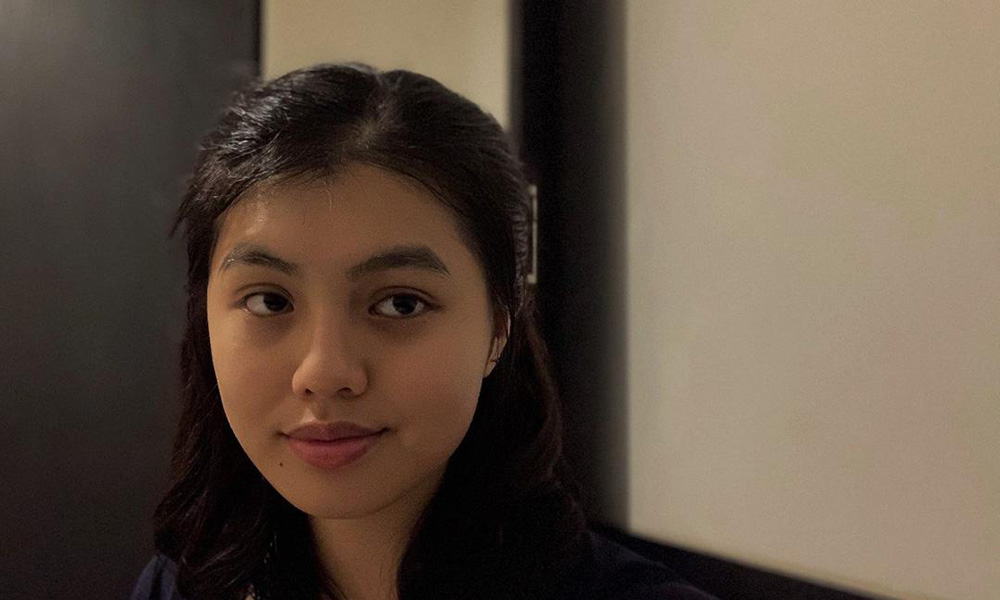 Bracing herself for online backlash and "uncomfortable" family conversations, Ooi (above) said she did not expect that "over 100 girls" would reach out to her – either to share their own sexual harassment experiences or give words of encouragement.
Even her teacher reached out to share her own experience of abuse, she said.
"It's been four years since I had a rest from this. It has haunted me for a long time, in everything that I do… and now it feels liberating and overwhelming," Ooi shared.
Awareness, retribution, apology
Ros Maizura Ramzan did not go to the police when two men – her friends at the time – allegedly assaulted her while she was asleep. At the time, she feared being blamed or ridiculed.
Now based in Los Angeles, the 23-year-old university student decided to name them on Twitter after reading Amanda's story.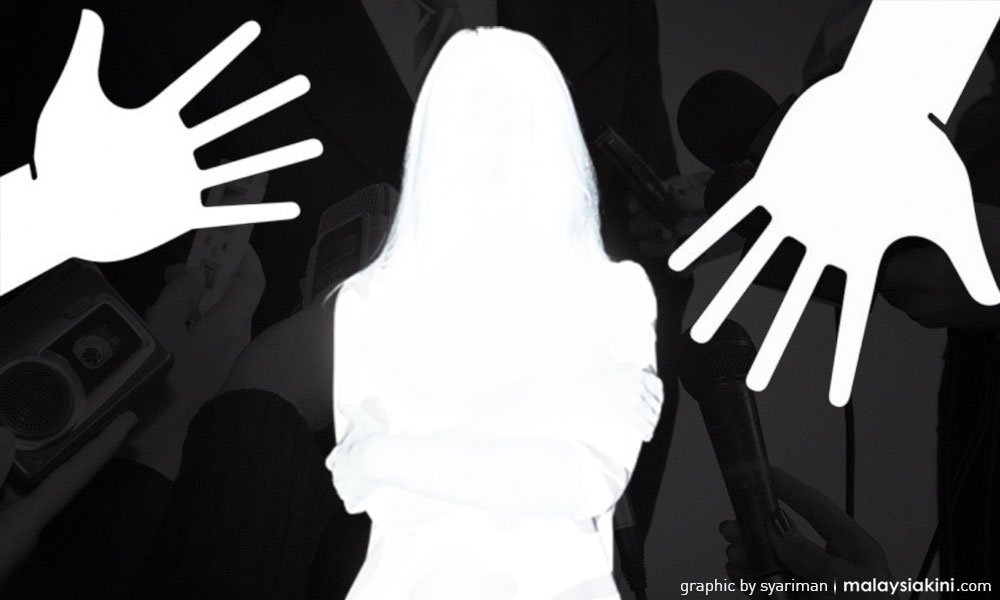 "I thought that if the justice system wasn't going to help me, I might as well take matters into my own hands to let them get what they deserve.
"In a way, by tweeting about it, it's our little form of justice for victims.
"Social media is very effective in warning girls and for getting similar stories from other victims of the same person," she said, adding that nine other women later contacted her and claimed they had been harassed by the same two men.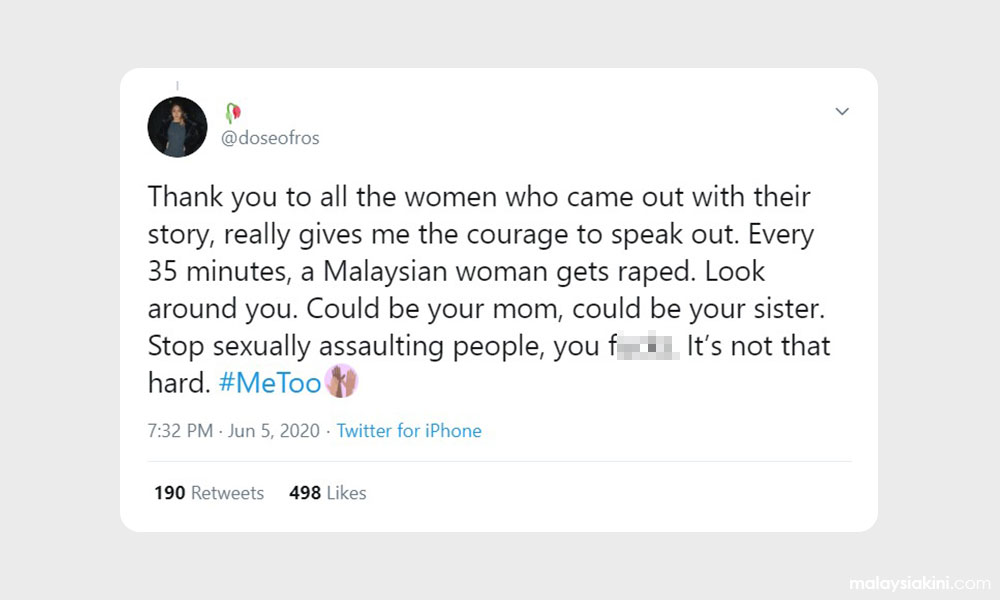 More than retribution or awareness, all Maya Lyn Valentine wanted from the man who molested her was an apology.
It had happened at a nightspot and she was not comfortable reporting him to the police, but she knew no other redress mechanism. When the 19-year-old student began reading more and more sexual harassment accounts online, she saw an outlet.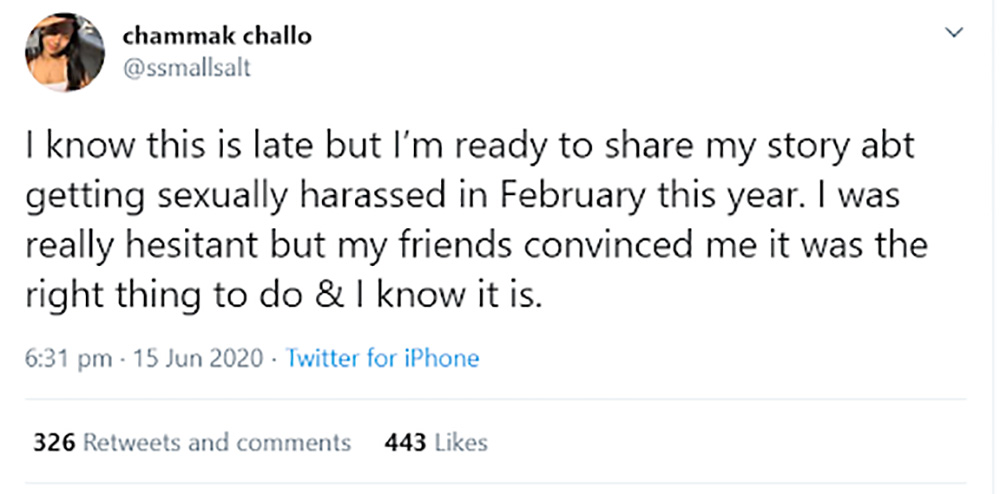 "This used to be such a taboo thing, you never saw girls talking about it, but now you see everyone is coming out. I think this was just the right time. If this whole movement had not happened, I don't think I would have shared it also," said Maya (below).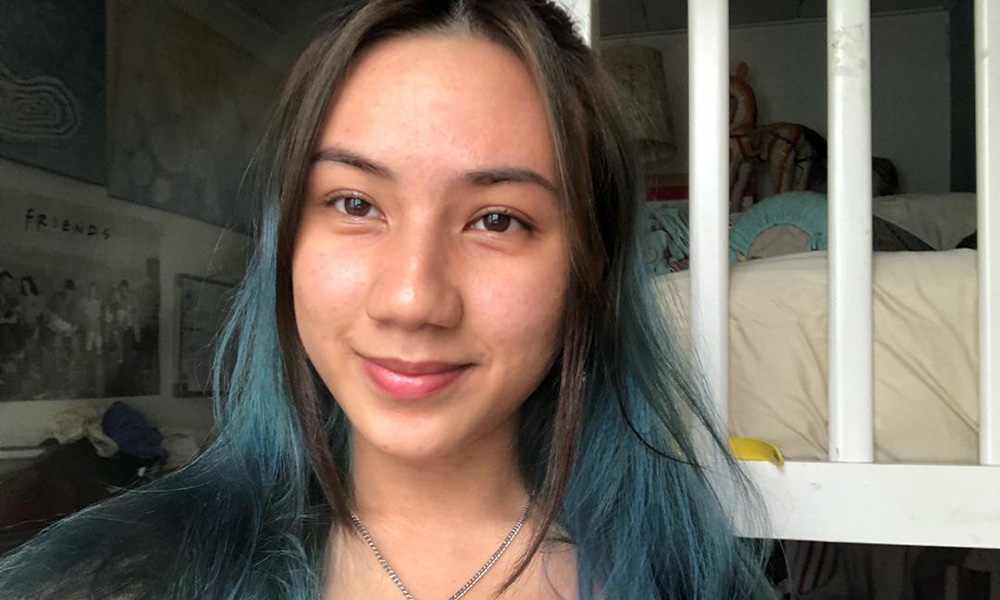 Three other women later contacted her alleging that the same man had sexually harassed them.
Sisters breaking silence
Will this Malaysian #MeToo movement resonate beyond Twitter and gather enough momentum to cause real societal change?
For one pair of sisters, at least, it has broken the silence on sexual harassment between them.
Similarly inspired by other women online, Hilda decided to call out a man for allegedly sexually assaulting her several months ago.
Shocked at her younger sister's revelation and struck by her courage, Safia decided to call out a former classmate for sexually harassing her as she learned he had also allegedly harassed other women after graduating from high school.
Despite living under the same roof, the sisters had kept secret their individual experiences from one another, up until this point.
"She never talked about it with me… and then I was like, 'Wow, I didn't know this happened to you.' She never opened up about it to me, it's crazy," Hilda said about Safia.
"We are way, way, way closer now because of whatever happened. We can understand each other because it happened to both of us," Hilda added.
Social media justice
According to the analysis of All Women's Action Society (Awam) programme officer Lilian Kok, the decisions of these young women to come out on social media pointed to a lack of trust in the existing ways of holding sexual harassment perpetrators accountable.
In a recently exposed case of alleged molest involving a prominent activist, the activist was only arrested days after a social media storm, even though a police report had been lodged four months earlier.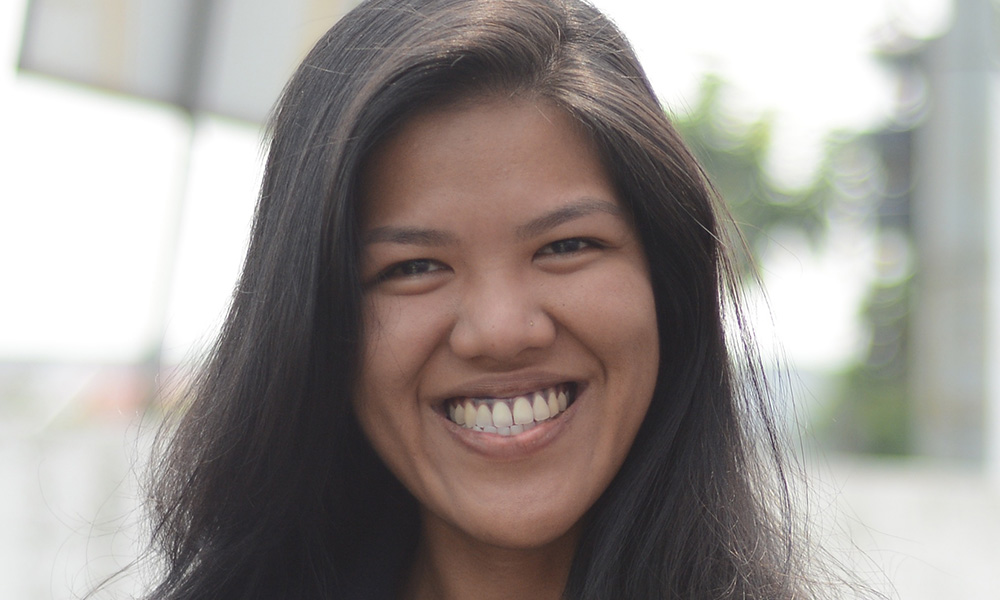 Kok (above) said when sexual harassment occurs in the workplace, a complaint can be lodged under the Employment Act 1955, but if it is outside of the workplace, the complainant can take up a civil suit under the tort of sexual harassment.
Alternatively, complainants can lodge a complaint with the police who can investigate the case under Section 509 (word or gesture intended to insult the modesty of a person) of the Penal Code.
Section 233 (improper use of network facilities or network services) of the Communications and Multimedia Act 1998, meanwhile, deals with online obscenities.
Despite these provisions, reporting or suing for sexual harassment is not commonplace.
Kok said survivors often worry whether the authorities would believe their account, or worse, blame them for it. Plus few are financially prepared for a lawsuit or comfortable with the degree of exposure that a case in open court would generate.
Furthermore, she said, the Penal Code places the burden of proof on the complainant to prove beyond a reasonable doubt that the offence took place. Obtaining this level of evidence is often a tall order in sexual harassment cases, especially if it was a one-time occurrence or committed in the absence of witnesses.
Rather than going down these routes, Kok observed that social media was increasingly seen as a more palatable avenue to "report" what happened, especially when other survivors have paved the way.
"On social media, they won't be the only one doing it. So when they get judged, they feel that everyone else will also get judged. So the support is there.
"But the legal system does not do that. If you go into the world and tell someone you have been groped, it's either you are told to live with it or be asked 'Don't like, ah?'" Kok said.
Legal risks of going public
But taking to social media could expose survivors to defamation suits, especially if they name their alleged abusers, said lawyer Meera Samanther (photo, below).
The Association of Women's Lawyers vice-president fears that younger survivors, especially, may not be aware of the legal risks involved.
While it could feel empowering, she also wondered if they were prepared for the possible online backlash and longer-term consequences of their actions.
"You need to be careful about how you put out things on social media. You have got to be careful if you name the person," Meera said.
One woman who came forward to name an alleged perpetrator has since removed her postings.
She spoke to Malaysiakini about the alleged abuse by Qayyum, but eventually decided not to have her experience cited in this article, fearing community backlash.
For those like her who are from more conservative or religious backgrounds, coming forward bears a greater risk of stigma and victim-blaming, including from relatives.
Meera, who is also with the WAO, encouraged sexual harassment survivors to seek advice and emotional support from women's groups. NGOs would be able to provide them with options, but ultimately will leave the decision to the survivor.
While effective in raising awareness about the prevalence of sexual harassment, both she and Kok concurred that turning to social media alone was not enough to protect others.
Though difficult, Kok stressed it was important for survivors to lodge police reports about their experiences as this helped women's groups obtain more representative data to push for better laws.
Better laws like the Sexual Harassment Bill, formulated by the previous Pakatan Harapan government, could be a mechanism to resolve sexual harassment cases.
Tribunal gives access to justice
Kok, who was involved in consultations for the proposed law, explained that the bill aimed to provide both the victim and alleged perpetrator easier access to justice while maintaining the privacy of the victim.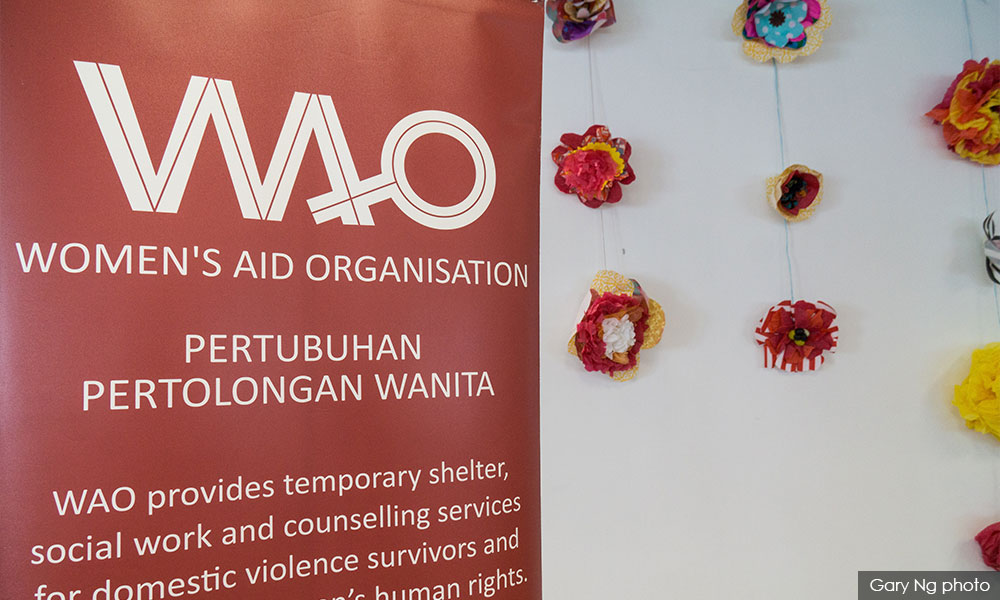 By offering clear definitions of sexual harassment, the new law allows the victims to lodge complaints at no or minimal cost.
Instead of an open trial, the case can be addressed privately before a tribunal made up of judicial, legal and gender experts. Alleged perpetrators will also be given the opportunity to explain themselves before the same panel.
After accessing both explanations, the tribunal will decide on the case based on a balance of probabilities, rather than the "beyond reasonable doubt" standard.
The bill also proposes a wide range of remedies including for the perpetrator to either issue an apology; pay compensation; refrain from repeating the sexual harassment, or undergo specific rehabilitative programmes.
Elaborating, Kok added the tribunal would need to decide on complaints within 30 days after they are lodged, to ensure swift justice.
Delayed from its initial March target due to the change in government, Perikatan Nasional's Women, Family and Community Development Minister Rina Harun recently announced that an "improved" version of the bill would be tabled by the end of 2020.
Women's groups have since demanded to know what the amendments are. Should the bill be passed this year, it would mark 28 years since legislation on sexual harassment was first proposed.
Kok noted that a draft bill was first presented to the ministry back in 2002, when Shahrizat Abdul Jalil was the minister-in-charge.
"We have been trying for decades, but we need the people's help.
"These kind of initiatives, like the one the girls are doing, are really great. So our job is to catch that momentum and push the agenda," Kok said.
---
For support, including on reporting sexual harassment and other related offences, contact Awam at +6016 237 4221, at telenita@awam.org.my or through its Facebook or Instagram accounts.
WAO can be contacted through its hotline +603 7956 3488 or through WhatsApp and SMS at +6018 988 8058.