By Annabelle Lee
Despite not having laptops or a stable Internet connection at home, three Form Four students have built an application that helps their school digitally record student information.
Keeping track of students' daily attendance and temperatures is part of the standard operating procedure (SOP) for the reopening of schools during the Covid-19 pandemic.
Anticipating a laborious data collection process if done manually, 16-year-olds Nurul Alisa Khairul Hisham, Nursyahirah Mohd Azhar and Zulshafila Akmal decided to create a better system.
Assisted by their teacher Yeong Sue Ann, the students from SMK Taman Megah Ria in Pasir Gudang, Johor devised the "Amigos School System".
In a recent Zoom interview with Malaysiakini, the trio demonstrated how their invention generates a QR code for each student. Each code contains data on the respective student's name, class, age and IC number.
Our students are amazing! Nurul Alisa, Zulshafila and Nursyahirah created an app named Amigos School System to track students' temperature to help their school with the new SOPs. pic.twitter.com/EFeYE4TWmb— Teach For Malaysia (@TeachForMsia) July 7, 2020
Every morning, students bring along a card printed with their personal QR code and have their temperature taken at the school entrance.
With a smartphone or a tablet, class teachers use the app's built-in scanner to scan the QR code cards. This prompts a form where they can record the student's attendance and temperature.
As teachers do this for all 800 students from 31 classes, the data is automatically compiled into a Google Sheet for the school's records.
The app can also be used to record information on school visitors.
How does it work? Each student has an ID card with a personal QR code. A smartphone is used to scan the QR code and key in the temperature taken from the thermometer. The app is currently being used in their school in Pasir Gudang. You can also download it on Google Play Store! pic.twitter.com/FbUNVDhLsS— Teach For Malaysia (@TeachForMsia) July 7, 2020
Chased out of fast food joint
Nurul Alisa, Nursyahirah and Zulshafila learned how to build apps as participants in i'M-SET, an afterschool science, engineering and technology programme run by Yeong and former Teach For Malaysia fellows at several Pasir Gudang high schools.
After participating in innovation competitions over the past three years, the trio placed third in a competition last year with their "Amigos Scanner" – a digital barcode scanner for sundry shops.
Even with that knowledge, building an app while apart during the movement control order (MCO) proved to be a challenge.
This was especially so since none had functional devices or Internet access at home.
Nursyahirah shared that the trio met up several times over one week to work on the app using Yeong's laptop at fast-food restaurants, school and even in their teacher's apartment and car.
On top of planning and coding the app, they also needed to create QR code cards for every student in school.
"We went to a fast-food eatery because they had WiFi there but there was a time limit. We exceeded the limit and got chased out," Nursyahirah said, laughing at the memory.
They completed the app just in time for Form Five students to return to school on June 24.
Proud to help teachers, friends
After a difficult MCO, during which Nurul Alisa's mother lost her job, she was glad to see her teachers and friends using their invention.
"I am so proud because my friends know this is something we made. This is the best (of our inventions) because we made something that the school can use. With other projects (like the Amigos Scanner), the school didn't even know we made it," she said.
For Zulshafila, calling the app Amigos School System was to endear its use to his peers as they felt the word amigos (meaning friends in Spanish) was a "friendly" name.
Determined to keep improving their invention, he shared the trio's plan to create an automatic thermometer using an Arduino microcontroller to complement the app.
"I am doing research to build something that can automatically check temperatures, where you can scan and have the information automatically saved as data," he added.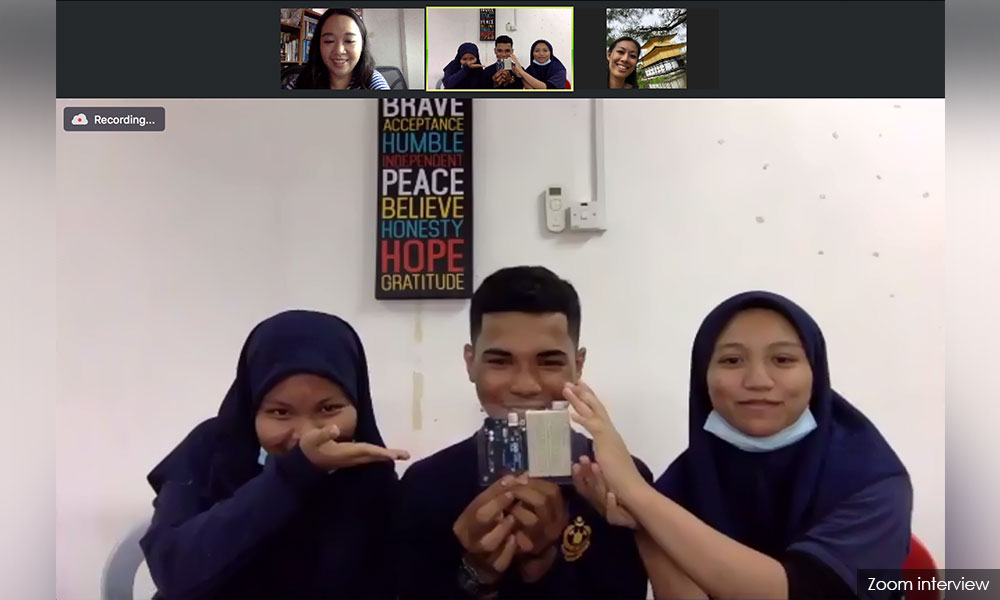 Meanwhile, the school's head counsellor M Bahvany, who is in charge of compiling these records, lauded the app as it saved her from the usual delays and mistakes experienced with manual data collection.
Not only has it simplified the data collection process, but it has also improved the quality of the data and provided a convenient as well as a permanent solution for data storage.
Bahvany plans to continue using the app even when the Covid-19 pandemic is over.
"They have done a great job," she said about the students.