By Annabelle Lee
"If you speak Rohingya I will fine you 20 sen!" Sharifah Shakirah shouts, half-jokingly, to a classroom of eight Rohingya women.
It is an English-language class and the women often resort to speaking their native tongue, hindering their progress in learning English. On Tuesdays, they come to the Rohingya Women Development Network (RWDN) in Gombak for English and Bahasa Malaysia classes.
The women were shy at first. They repeated softly after Sharifah, their teacher, who is also a Rohingya, and giggled when we asked for their names.
Most of the women are young mothers and have brought their children along with them. It is difficult learning two new languages when your infant son is wiggling on the floor for your attention.
Sharifah comes to each woman, running them through the list of words written on the whiteboard. The day's topic was 'Things in the House'. She makes them recite sentences over and over, correcting their pronunciation and grammar.
Nur Jehan sits on the front row. She is 11 years old and has been told by her father to stop school because "she is a woman now". Her only source of education is this class, which she attends with her mother Nur Begum. Like many of the women there, Nur Jehan came to Malaysia five years ago when conflict between the Myanmar junta army and the Rohingya people in Rakhine state escalated.
By the end of the class, that day, all the eight women could confidently say full sentences in English, aloud.
"My name is Mumtaz and I live in Gombak. I have one television in my house. I eat in the house," says Mumtaz, her large kohl-lined eyes looking intently at Sharifah for approval.
"Yes! Correct!" says Sharifah, ecstatically.
Next: Karate, futsal and equality
Sharifah, 24, started RWDN last December because there was no organisation to look after Rohingya women in the country, with the existing ones focusing on providing for children and men.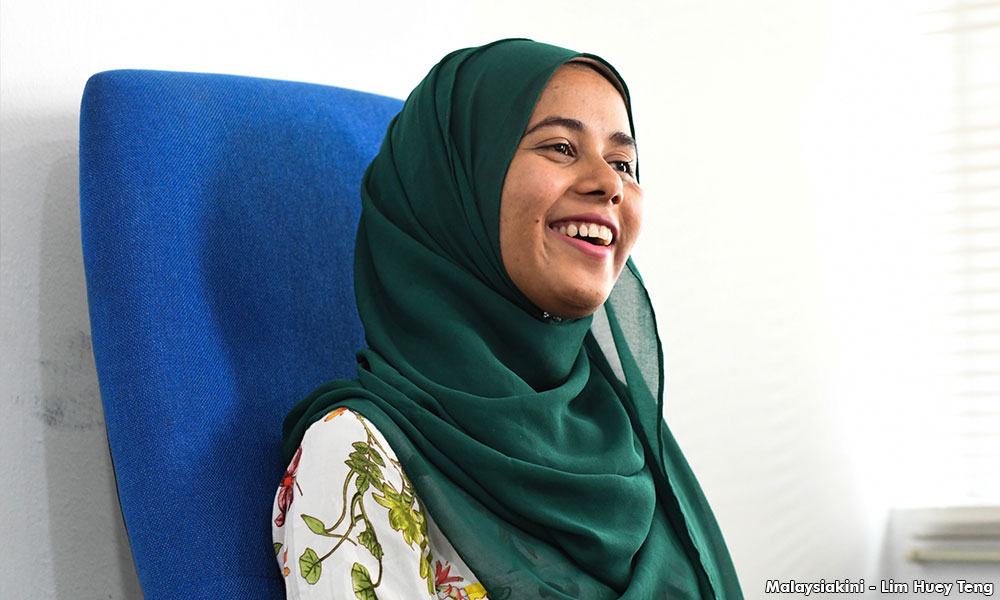 "The idea is to empower the women through education, skills and sports.
"Apart from language classes, we organise Quran classes, jewellery-making workshops and sports activities. Soon we will have karate and futsal classes as well! I am so excited," Sharifah said.
Once a month, she runs a food-distribution drive and on June 17, there will be a "buka puasa" (breaking of fast) party for all the women who are part of her organisation.
She funds her organisation through donations as well as from money she gets from working as a translator with migrant rights NGO Tenaganita.
Sharifah, who is fluent in five languages – Rohingya, English, Bahasa Malaysia, Hindi and Myanmarese – previously worked at the office of the United Nations High Commissioner for Refugees (UNHCR) in Kuala Lumpur.
"Rohingya women have always been treated differently by the men in our community. They always say, 'we can't do anything'," she laments.
Sharifah speaks from personal experience as well, for many Rohingya men challenged her when she first started RWDN, saying she would not be able get it off the ground.
Only her husband, Mohammed S Anwar, a journalist with Rohingya media network Rohingya Vision (RVision), supported her.
Through RWDN, Sharifah wants to build leadership skills among the Rohingya women and enable them to confront the gender inequality in the community by giving them an opportunity to be independent.
"If Rohingya women get left behind, we will not progress," she warned.
Back in the English class, the women said that at the session next week, they want to learn the English terms for parts of the human body.
The Rohingya Women Development Network can be reached on Facebook.