By Annabelle Lee
Aegile Fernandez always wears the same thing.
On top of a black "Anti-human trafficking" T-shirt, she wears a blue denim shirt with a button badge with the words "I am not for sale" pinned to her left breast pocket.
People in shopping centres always ask her about that badge, and she uses these opportunities to explain what human trafficking is. The denim reminds her of her youth in the 1970s.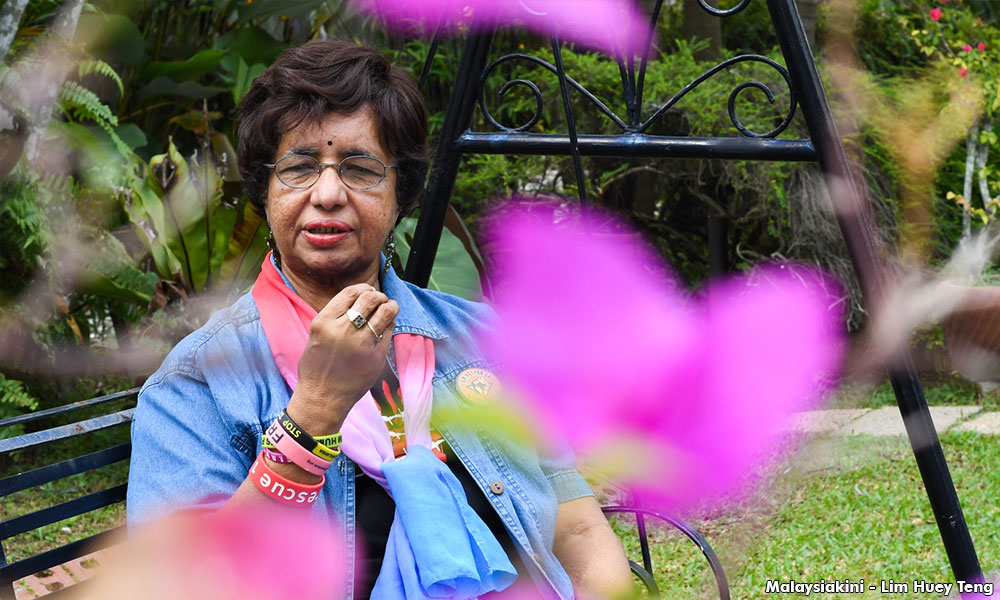 On both her slender wrists are stacks of colourful rubber bracelets with slogans like "Freedom", "Stop Human Trafficking" and "Do Rescues". A colourful scarf, "a symbol of Asian women", completes her uniform.
"What I wear is part of my activism. It is my way of educating the public," says Aegile, who is 68 this year.
She began doing social work as a 16-year-old, visiting the sick in the hospital in Sungai Petani, Kedah. She went on to work with prisoners, sex workers, drug addicts, HIV/AIDS patients, domestic abuse victims, refugees, human trafficking victims and abused children before becoming director at the migrant and workers' rights NGO her late sister Irene founded – Tenaganita.
Sitting on the metal swing in the garden in the compound of Tenaganita's headquarters in Petaling Jaya, Aegile shares about her 52 years in social service. This is her story in her own words:
MY PARENTS ALWAYS SAID put other people before yourself. We grew up in a rubber plantation in Sungai Petani, Kedah. My father was brought over by the British from Kerala, India as a migrant worker.
My mother, Margaret, always believed in equality and justice. She loved people.
My mother had this thing where she would open the front gate at 6am, and women would drop by for a cup of Milo and biscuits before walking to work. Sometimes they would tell my mother their problems and she would advise them.
I remember even on weekends when I would sleep in, I would hear voices in the kitchen and wondered, "Why are these people in my house so early in the morning?"
We did not have much to offer, but my mother always made extra food because she said "somebody hungry might come by".
She always reminded me, "remember you only need half of that plate of food. The other half must be given to someone who does not have food."
She also taught me that my choice of work must not be to control somebody or to make lots of money. Rather it must be about serving other people's needs.
I MOVED TO KUALA LUMPUR IN 1970 as a 21-year-old to work as a secretary in a big company, but after eight months I felt that it was not the job I wanted. There was something missing.
I thought about my mother's words and decided to do the thing I love – working with people. That is when I decided to go into social work and activism. I started with organising workers.
IN ALL, I WORKED IN MORE THAN 22 JOBS. From being a waitress, a petrol pump attendant, a factory worker, to a door-to-door salesperson. You name it, I've done it. I deeply felt that if I was not there with the workers, I would not understand their issues and problems, or how to organise them.
I got kicked out so many times for trying to organise my co-workers. I would get kicked out from one hotel and go to work at another hotel, until I think it was at the sixth hotel when I found out I was blacklisted from all hotels in Kuala Lumpur.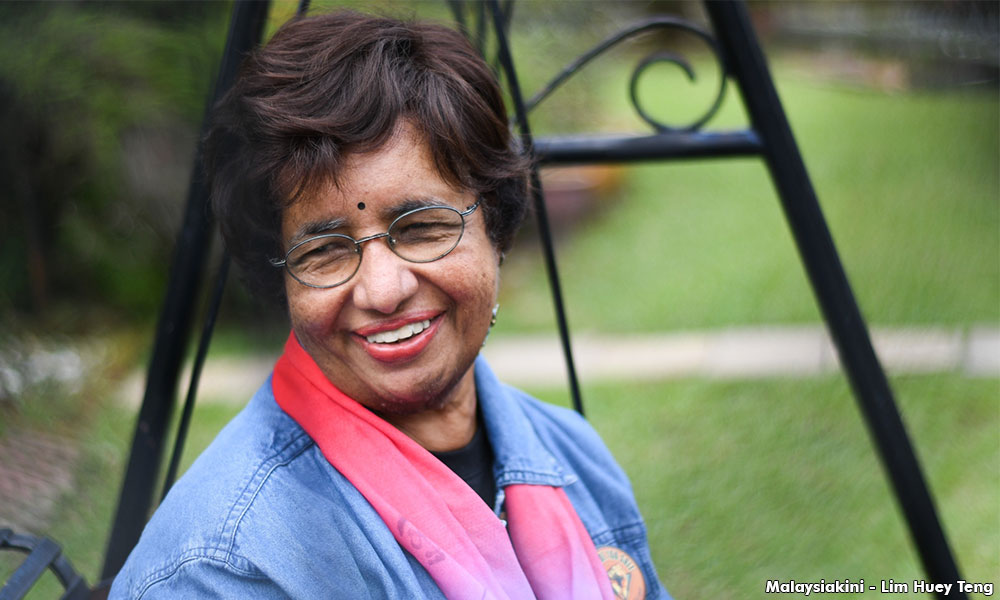 When I moved on to the restaurant industry, I realised my co-workers in all these five-star restaurants were having money deducted from their salary every month for accidentally scratching or breaking wine glasses.
At the end of the month you would find them with no money left. I gave them RM5, RM10 so they would have something at least. By the end of the month, I would tell Irene "I have no money". All my money went to sharing.
These experiences made me question arbitrary salary deductions and the low pay workers were getting. I began fighting for what workers should have been getting.
It also showed me how the Labour Department was just keeping quiet about all the broken rules. They only acted when someone walked into their office and complained. But all these workers are not going to come to you, I told them, because they are afraid of losing their jobs.
MY FRIEND CATHERINE AND I WERE PICKING UP ALL THESE BODIES AND BURYING PEOPLE of all races and religions while the authorities stood far away writing notes, telling us to wrap the bodies up in garbage bags. In the 1980s, no one wanted to help people on the streets who were drug dependant and had HIV/AIDS.
People used to ask me, "Are you not afraid of touching the bodies?" and I replied saying "I think God will bless us because we're helping another human being, even though he or she is dead". This was when people did not understand HIV/AIDS.
ON MY WAY TO WORK, I WOULD SEE ALL THESE YOUNG GIRLS WORKING AS SEX WORKERS along Petaling Street and wondered how could I help them.
So I went to sit in a coffee shop and got to know these girls when they came by the shop. I got to know about their life, their experiences and why are they were there. I became a friend and a sister to them.
With all the people I worked with, it was important for me to first sit down with them and be their friend. I wanted to understand all that surrounds them and why there were in those situations.
In the process I learned about the whole issue, like how drugs is not just about the person buying it but also about how they come into the country and how they get sold. I learned about these new worlds that few even knew existed.
THESE PEOPLE BECAME MY FAMILY. These people who were shunned by society were the first to offer to buy me food and take me to the hospital when I fell ill. It was much more than what my friends, who were busy with their lives, were willing to do.
WHEN IRENE ASKED ME to join Tenaganita in 1993, I was reluctant at first. In all my years of social work I never joined any organisations because I did not want to be limited by rules and regulations.
But Irene had asked me to set up a migrant and human trafficking desk, and I had already been working with those communities since the 1980s.
"With all your experience, come open the desk and start this," she told me. It was a continuation of the work I was already doing so I said I would give it a try.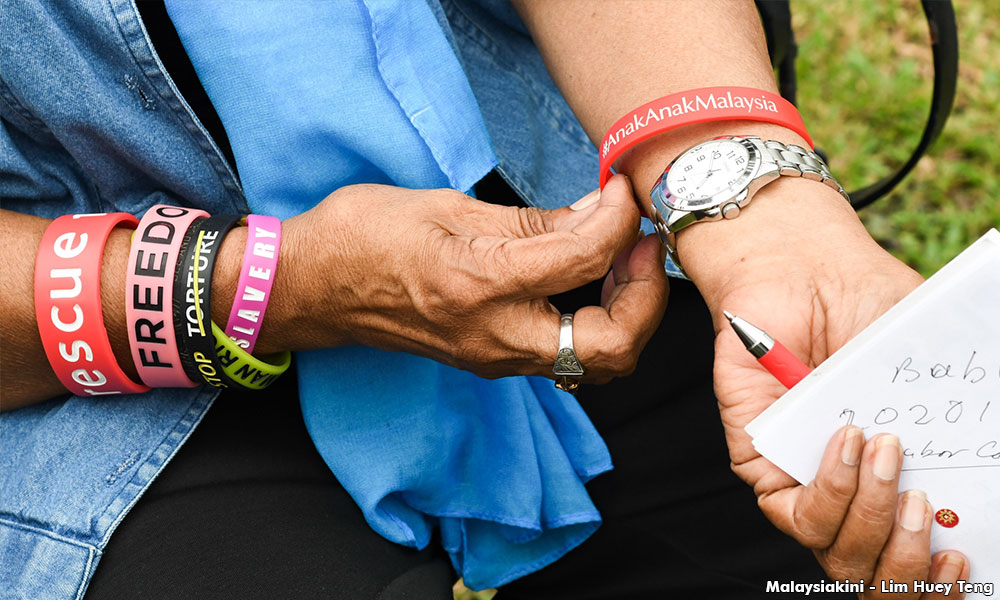 THIS WAS A TIME WHEN NOBODY KNEW WHAT HUMAN TRAFFICKING WAS. I remember the police asking me once, "Why are you coming here and taking our jobs? Are you talking about traffic jams?"
This was a group of people, unseen by Malaysians, who were being brought here into the country and sold. Tenaganita became a platform, an umbrella in which to unite all my advocacy work especially when working with authorities.
In the 1990s was also when many women from rural areas were coming into the city to work in the free trade zones, in the electronic industry. Filipino and Indonesian domestic workers began coming into Malaysia. We had a lot of migrants coming in at this time and Tenaganita became a platform where these communities would seek help.
IRENE'S DEATH IN 2014 WAS SUCH A SHOCK. We always joked that I would be the one to go first. Running an organisation is not my cup of tea, I don't like doing administrative work! My thing is to do be with communities. Like rescuing abused domestic workers.
We get people calling us saying their neighbour is abusing their domestic worker, asking us to come save her. Sometimes the community themselves helps to arrange for a way for the domestic worker to escape from the house.
Previously, we would never get such help because people did not want to get involved. People are more aware now. More are talking about the rights of domestic workers have.
I AM 68 THIS YEAR AND I WILL NOT STOP UNTIL I AM IN THE COFFIN or in the ground, I must say, because I don't even know if I will have a coffin!
As long as I have a body that can work, I will continue. There is no such thing as retiring. There is still so much to do. So much to teach the young people to take over.
---
MALAYSIANS KINI is a series on Malaysians you should know.