By Alyaa Alhadjri and Annabelle Lee
INTERVIEW | Being in the company of Immigration Department director-general Mustafar Ali, one gets the impression that he is someone who is up for a challenge.
Having recently marked his first year in office, Mustafar spent over an hour with Malaysiakini talking about his ideas to reform the department, often criticised for being a hotbed of corruption – from the front liners manning the country's borders to backroom officers in charge of approving permits.
Earlier that day, he had led his 14,000-strong department in taking the Malaysian Anti Corruption Commission's (MACC) anti-corruption pledge (IBR). Audiences were shown a video of him performing a heartfelt, self-penned monologue on how corruption was destroying the nation.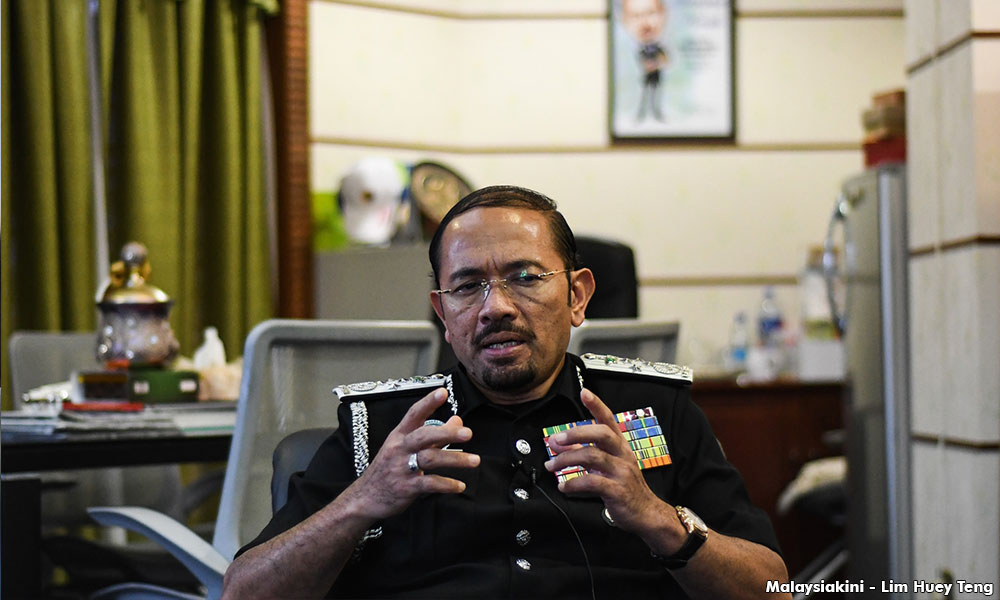 At the ceremony, Mustafar had also earned praises from both his bosses – Home Minister and Deputy Prime Minister Ahmad Zahid Hamidi and ex-colleague MACC deputy commissioner Azam Baki for leading the department in the right direction.
"I have zero tolerance for corruption, especially in my capacity as the previous deputy chief commissioner of the MACC," he said when met after the ceremony at his office at the immigration headquarters in Putrajaya.
Mustafar had spent 31 years at the MACC and its previous iterations, starting out as an investigations officer after graduating with a degree in geography from Universiti of Malaya before working his way up.
He was transferred to his present role last July, allegedly after investigations into 1Malaysia Development Berhad (1MDB) had gained traction. His MACC beret, baton and insignias sit in a glass case at the door of his office.
In 2015, a Malaysian Special Branch report revealed deep-rooted institutionalised corruption among law enforcement officers, including those from immigration, at the country's borders.
Eighty percent of them were found to be involved in smuggling and human trafficking rings.
A Malaysiakini joint special report with Indonesia's Tempo magazine had also uncovered how foreign workers from Indonesia are smuggled through Batam to Johor's Stulang Laut port, through collusion between the traffickers and local immigration officers.
Mustafar contended that while there were "black sheep" at immigration who were giving it a bad name, the same was true of any organisation and it did not warrant "sweeping statements" about how corruption permeated the department.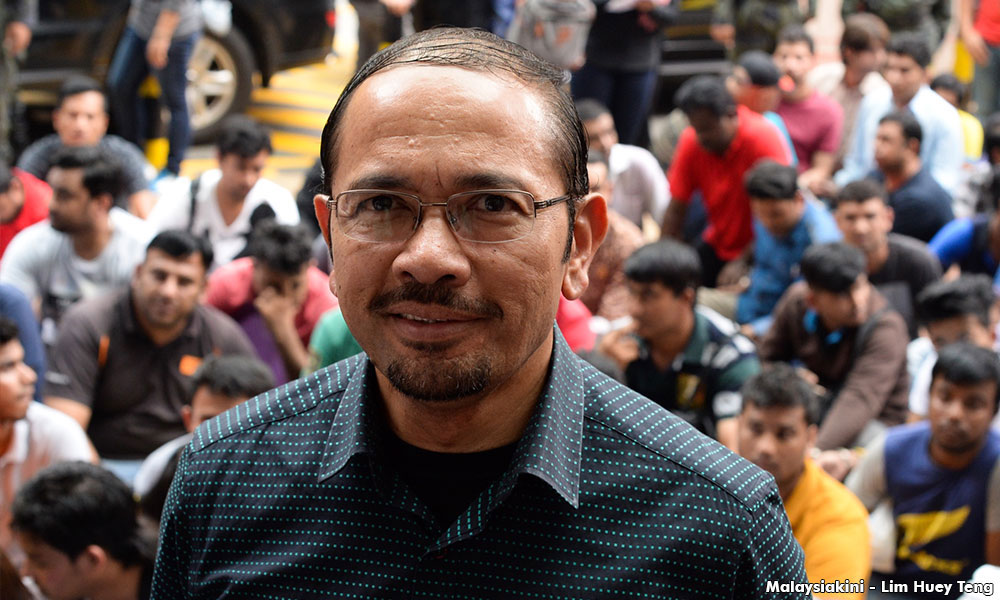 "It's being addressed. We do arrest our officers. Just last week we arrested a couple of officers for being involved in these kinds of, criminal doings," he said, pausing intermittently to formulate his answers.
He eschewed offering the exact number of arrests made so far, but assured punitive action was taken. Cases do end up in court, upon consent from the attorney-general's chambers.
The key to rooting out corruption was drilling integrity into new recruits, stressed Mustafar. He makes it a point to personally remind each new batch, of their duty to the government and the rakyat on their first day of training. Also, beginning in October, recruits will undergo a three-month training period, double of what it was before.
Aside corruption, a long-standing issue has been the involvement of "opportunistic" agents in immigration processes.
Automation vs agents
Mustafar previously said that there was "no room" for agents, warning employers against engaging them to grease processes like re-hiring workers or risk getting cheated.
At the interview, he again pleaded for employers to deal directly with the department, even if that meant they had to take time off work. He mentioned that a small number of agents had been arrested so far, but mentioned a different approach for cutting them off altogether.
"The plan is automation, that will cut off all human intervention. If we use an online system, we won't need agents or vendors.
"The hassle of having the queue will be removed and employers will be able to do things in their own time, at home or when they are at the office," he explained.
The department has been working to move fundamental immigration processes online, including payment methods. Passports can now be renewed on the myIMMs website and come November this year, visas will be available online as well.
Presently, certain immigration processes are undertaken by three private vendors appointed by the government – MyEg Services Bhd, Iman Resources and Bakti Megah.
These third-party companies have often been blamed for hiking up costs involved in the hiring and re-hiring of migrant workers, on top of thousands of ringgit paid to the government for the levy and other charges. Opposition lawmakers and migrant rights groups have repeatedly questioned the necessity for these companies to essentially do the work of the Immigration.
"This is the government's policy, and it was there before (I became the director-general).
"I believe it was to make things more smooth-running. Before this, it was just immigration (who conducted these processes), but then the number of migrant workers kept getting bigger and bigger," quipped Mustafar.
Just around the corner from the Immigration Department's Putrajaya headquarters is a MyEG branch office, where more than 100 workers were seen waiting around for their turn to pay a "registration fee" of RM900 and to verify their biometric fingerprint identification records.
One employer, who declined to be named, said she had brought along an agent to help her navigate the "troublesome" online application system, saying she much preferred it when the process was handled directly by the Immigration Department.
Last month, an Al Jazeera 101 East report exposed how migrant workers in Malaysia are systematically exploited by agents and human traffickers. It had linked two of these private vendors to the deputy prime minister and alleged that high-ranking Home Ministry and immigration officials had been enriched through the operations.
This episode was not aired on Malaysia's Al Jazeera broadcast but is accessible online.
Abdul Zahid had dismissed the report as untrue while deputy home minister Nur Jazlan Mohamed had called the allegations "outdated", saying moving systems online had stopped such activities.
When asked for comment, Mustafar explained how news often ended up being "distorted".
"But I don't want to mention about that Al Jazeera (report), maybe the DPM can answer that," he said.
Long-term plan needed
Migrant rights groups previously urged Putrajaya come up with a national policyon labour migration in lieu of reactive, hasty plans every few years.
Mustafar acknowledged the need for this but admitted Immigration would need support from relevant ministries.
"In the long term, we need a holistic approach, there must be a plan.
"We need to talk to the Human Resources Ministry and ask them what sector needs the most migrant workers. We also need to discuss things with policymakers at the Home Ministry.
"As the executors, can bring this forward," he said.