By Annabelle Lee
Overnight, the green and picturesque grounds of Universiti Malaya (UM) were transformed into a sea of colourful banners ahead of its Student Representative Council (MPP) elections.
Just like in "real" elections, the candidates are divided into rival "camps," with one, Penggerak Mahasiswa (Penggerak), clearly having more resources than its opponents.
The group's headquarters, for instance, is located at the Perdananasiswa Gazebo, a covered outdoor auditorium.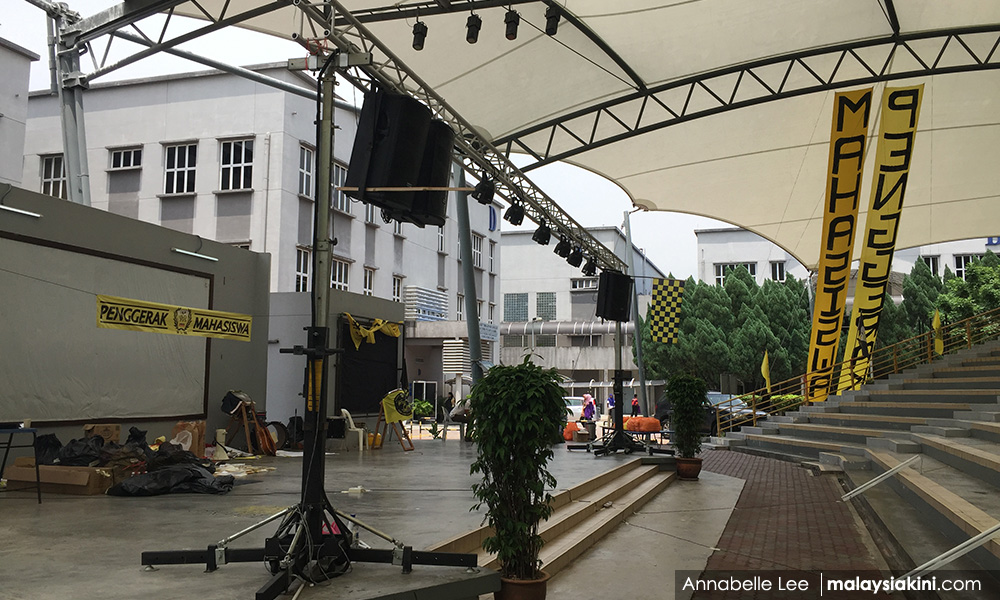 Penggerak is entering the election in a position of incumbency of sorts, having controlled the majority of the MPP seats over the past two years. Last year, it held 29 seats while the other two camps made up the remaining 11.
This time around, it is fielding 38 candidates for the 40 seats up for grabs.
Penggerak election director Hazwan Syafiq Haznain said his group is fairly confident of maintaining the winning streak. They have already won some seats uncontested.
"For one, we are better organised (than the other two camps). We started planning for this election after we won last year's election.
"Plus, students are in favour of what we have offered in the past two years, from our ideologies to the way we work.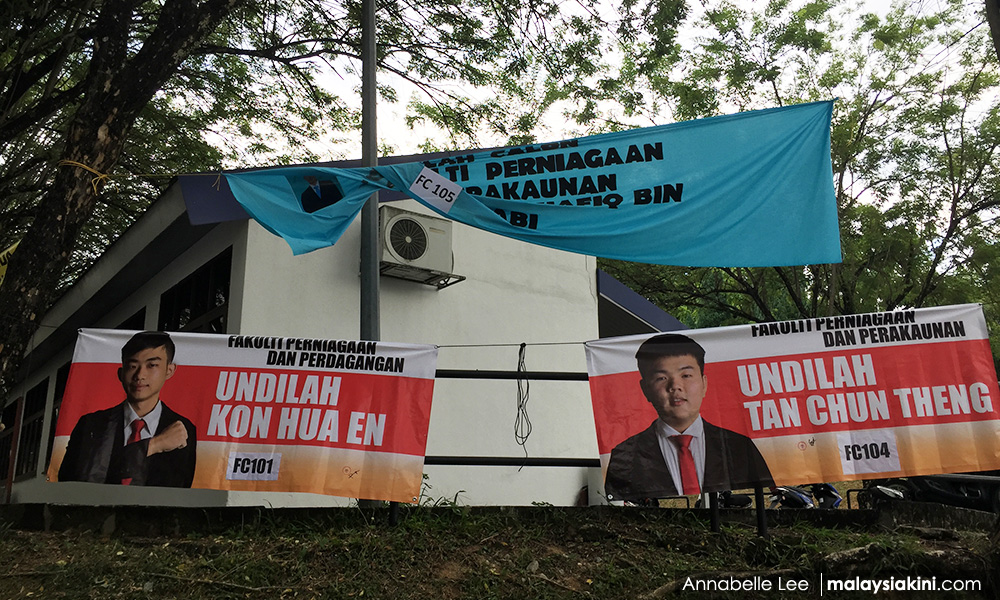 "We advocate discussions and negotiations with the university management, unlike the past when it was the 'dark times'," Hazwan Syafiq said, referring to the era when the rival "pro-student" camp led the MPP and organised many demonstrations against the university's administration.
Hazwan Syafiq, who recently stepped down as MPP president, said that his group will present its "welfare-centric" manifesto and hold a vehicle procession today.
Substance over style
A second "faction" involved in the elections is known as Neosiswa – a Muslims-only outfit that preaches Islamic values and solutions.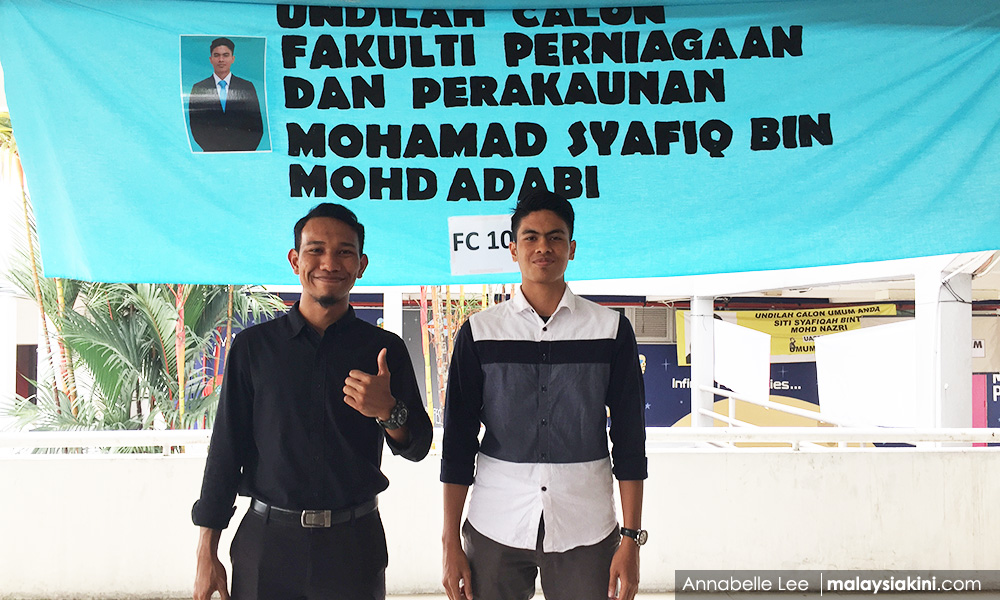 According to Neosiswa spokesperson Mohd Irfan Kamaruddin (left in photo), his group does not have the resources for a campaign headquarters or "gimmicks."
Their 10 candidates will have to pound the pavement and present their election pledges to voters face to face.
"Last week, we released a survey on Facebook to ask students what issues they wanted to be solved, and drafted our manifesto based on the results.
"Our manifesto is what sets us apart. It is grounded in three fundamental principles – intellect, dakwah (preaching) and seeing Islam as the solution," said Mohd Irfan, who is also among the candidates.
He said that his group, like Penggerak, frowned upon student demonstrations, and preferred a more "mature and professional" approach to campus politics.
Unfair playing field?
The third "faction" in this election, which refers to itself as "pro-student," is a coalition of three groups – Angkatan Mahasiswa, Demokrat UM and the UM Association of New Youths (Umany).
This group hopes to bounce back during this election by highlighting Penggerak's shortcomings, and the bureaucratic problems with the university.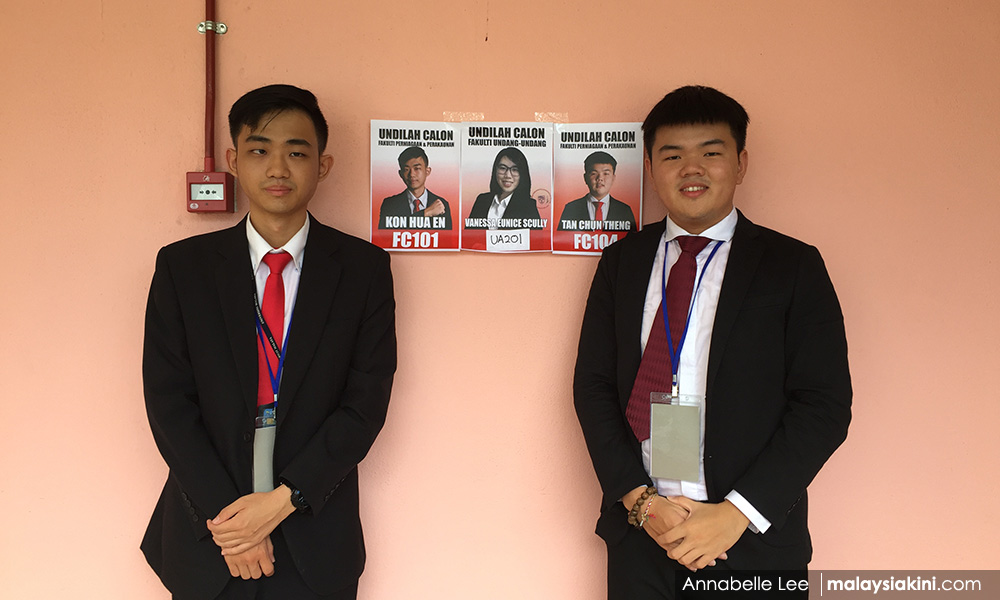 "This time, we hope to win at least 21 of the 24 seats we are contesting.
"The difference between us and Penggerak is that we are not afraid of the authorities and while they offer mere short-term solutions for problems faced by students, we address the root cause – the lack of autonomy for students at the university," Umany president Kon Hua En (left in photo above) told Malaysiakini.
The camp is also promising to push for the abolishment of the University and University Colleges Act 1971 (UUCA).
Kon said the election campaign would be tough and he believes that the administration of campus elections, by the university's Student Affairs Division, favours the "pro-administration" camp.
For instance, elections used to be held in December, but have since 2015 been brought forward to September, shortly after the commencement of the new semester.
"This has given us less time to reach out to first-year students and to assemble resources for our campaign," he said.
This arrangement, Kon said, gave Penggerak a head start, because many of their members were involved in the orientation programmes for new students.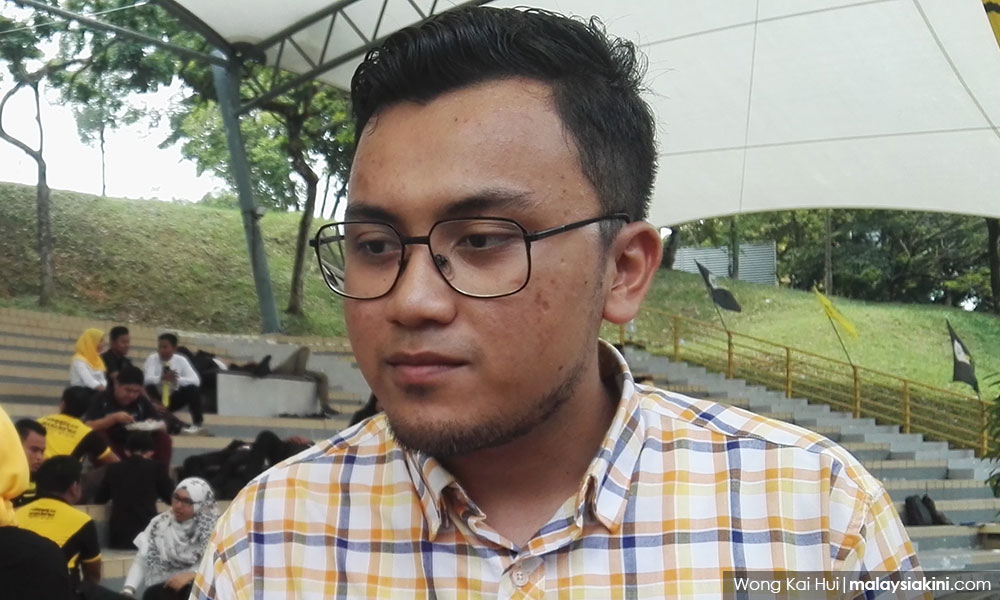 Hazwan Syafiq (photo) said this allegation was unfair, and that it was the "pro-student" camp's refusal to work with campus authorities that led to them being left out of orientation programmes.
The campaigning period ends tonight, and voting will take place on tomorrow (Sept 28). Results are expected on the same night.