By Annabelle Lee
SPECIAL REPORT | Sungai Siput MP Dr D Michael Jeyakumar has a long history with his chosen constituency.
It began some 40 years ago, when he volunteered at an estate school in Sungai Siput while pursuing his medical degree at Universiti Malaya.
Social work and empowering the poor has been at the core of Jeyakumar's adult life, and even more so today as a Parti Sosialis Malaysia (PSM) lawmaker.
For many politicians, daily life involves grandstanding, jousting with rivals through press statements, and indulging in photo opportunities.
Jeyakumar's socialist principles, on the other hand, prevent him from indulging in the more narcissistic side of politics.
"I'm an unconventional politician. I went into politics to bring a different political culture. I'm about anti-neoliberal economics," he said.
Recently, Malaysiakini followed Jeyakumar for a day and observed the avowed anti-capitalist at work.
11am: Lim Garden, Ipoh – We meet up with Jeyakumar at his home. He is busy preparing documents and his attire. He has about 12 hours of work ahead of him.
It is the Monday after the tabling of Budget 2018, but Jeyakumar is skipping Parliament because it is not his turn to speak, and there are people waiting, who need his help.
His first stop is Taiping, where he will be representing a constituent before the Perkeso appellate board on a Socso payout dispute.
"Such cases are not my forte," he admits. "I'm trained as a doctor."
However, he chooses to help those who cannot afford a lawyer. He says such work also helps him learn about how the country's social security system serves its contributors.
He hangs his blazer in the back seat of his Toyota Vios, and wonders if he needs a tie. "Maybe I need it to look intimidating, so they will take me seriously," he jokes.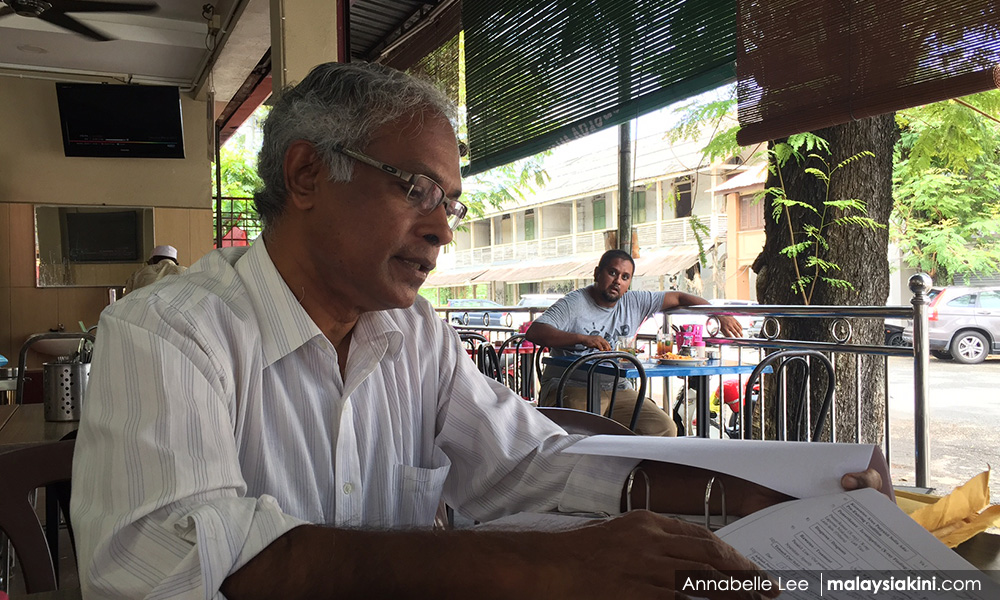 12pm: Socso office, Taiping – Jeyakumar meets his constituent, S Moganalingam, at an Indian Muslim eatery near the Taiping Socso office.
They go through case documents and discuss strategies before the hearing.
In March last year, Moganalingam, 32, severely injured his right leg while at work at an oil palm plantation in Sungai Siput. After receiving regular Socso payouts for several months, he was awarded a lump sum prior to receiving surgery for the injury.
It was only after settling his hospital bills did Moganalingam realise that by accepting the sum, he was no longer eligible for monthly payments.
Moganalingam, who is illiterate, struggled to feed his wife and three children, as he could not work full-time while still in rehabilitation.
At the hearing before the three-member board, Jeyakumar appeals to have Socso's medical board questioned over whether they had been thoroughly informed of Moganalingam's impending surgery before awarding him the lump sum. The appeal is unsuccessful.
Dejected, he suggests taking the issue to the High Court to Moganalingam, who says he will take it into consideration.
4pm: Kampung Murni, Taiping – After parting ways with Moganalingam, Jeyakumar drives to call on K Kamaladevi at her squatter house located behind a thicket off the main road. He gets lost several times before we arrive at the house.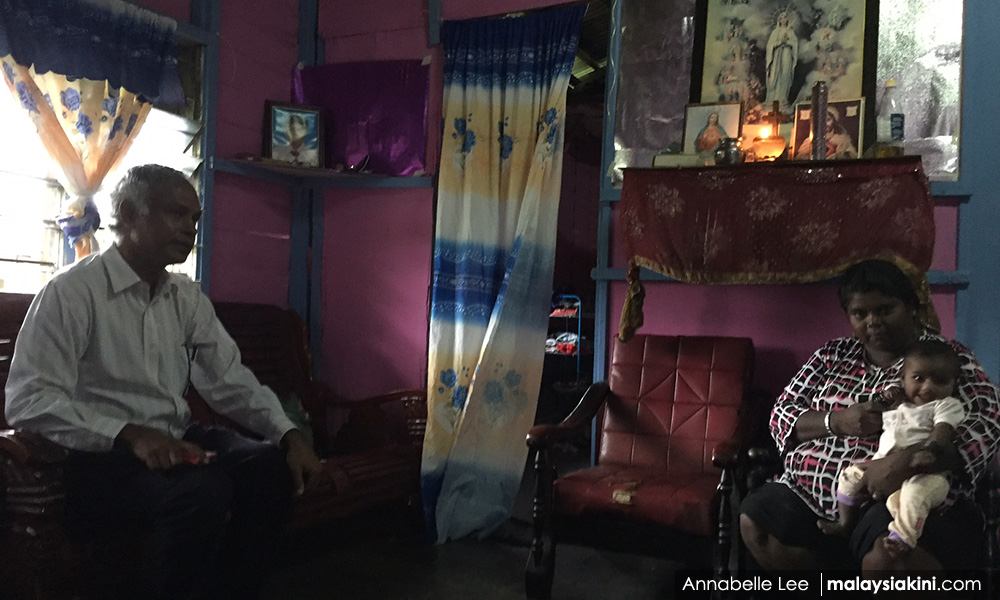 Kamaladevi lives with her two sons and 19-year-old daughter Theresa, who recently had her second child. Nobody in this household has identity cards.
Jeyakumar has been working with Kamaladevi for two years. This meeting is a follow up to her family's quest to be recognised as citizens by the National Registration Department.
Kamaladevi and her uncle have decided to undergo DNA tests to support her citizenship application. Jeyakumar promises to write to several churches to seek funds for the test.
7.15pm: PSM service centre, Sungai Siput – The large rusty signboard at Jeyakumar's office greets constituents who are already lining up to see their MP.
Over the next four hours, Jeyakumar meets about 50 people. Some are here on follow-up visits, while others are meeting him for the first time.
For every new "case," Jeyakumar begins the conversation by asking for their names and about their families, before jotting down their requests on a piece of paper.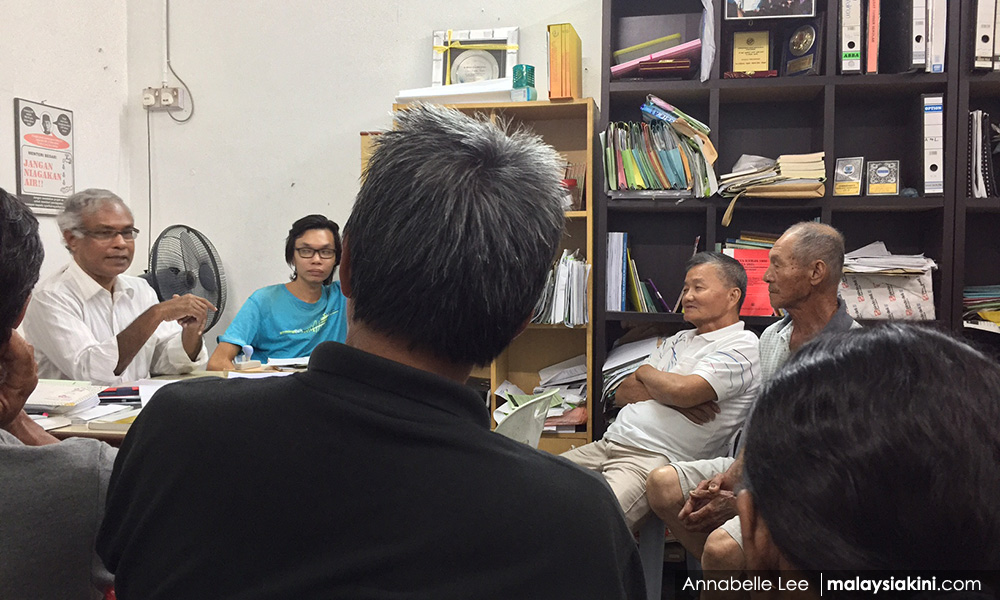 Requests range from medical referrals, jobs, letters to seek financial aid for single mothers, as well as for utility bills. A wheelchair-bound man asks for a letter addressed to Socso asking for more money. Six farmers from a nearby village in Chemor approach him for help in solving a land dispute.
After listening to every request, Jeyakumar provides assignments for his three full-time "case workers."
11.15pm: Makeshift coffee shop, Sungai Siput – After meeting the last constituent, Jeyakumar's three staff members, Seng, Shazni and Nagen, meet to plan ahead for the week.
Seng will hold a town hall with the Chemor farmers the next day, while Shazni will help several families settle a portion of their utility bills and negotiate for more time to settle their debts.
Nagen will write a letter to prison authorities on behalf of a woman who is requesting to be allowed to pass medication to her husband, who is at present being held in police lock-up.
Jeyakumar then joins several PSM Youth members at the coffee shop. He asks them for their opinions on Budget 2018, and if they have any suggestions on what he should raise during the debate.
They complain that the budget offers little to youths, and suggest organising an information session to inform local youth about the technical and vocational education and training (TVET) opportunities available to them. Jeyakumar offers them his support.
Midnight: Ipoh – On the way back to Ipoh, Jeyakumar says tomorrow is yet another busy day for him, but he looks forward to it.
He will begin his day by accompanying a woman involved in a religious conversion case to the Syariah Court in Ipoh.
And after that, Jeyakumar will head to Parliament.