By Annabelle Lee
Deputy Prime Minister Ahmad Zahid Hamidi may have been the guest of honour at the launch of BN's election machinery in Bandar Tun Razak last night, but the 800-strong crowd were chanting a different name – "Rizalman."
Deafening chants, some lasting several minutes, rang out every time Umno Bandar Tun Razak division chairperson Rizalman Mokhtar's name was read out.
With so much focus on Rizalman, it was easy to overlook the presence of the constituency's BN chairperson Chew Yin Keen onstage.
Nor was Chew heard, as he was not allocated a slot to speak at the event.
Playing to the gallery, Zahid declared Rizalman the "hero" who would help return the constituency to BN after two successive defeats to PKR.
"Nine years we have been suffering in the gutter, this is the time to return Bandar Tun Razak into the hands of BN.
"I believe this is our hero, Rizalman," he said, before the chants rang out again.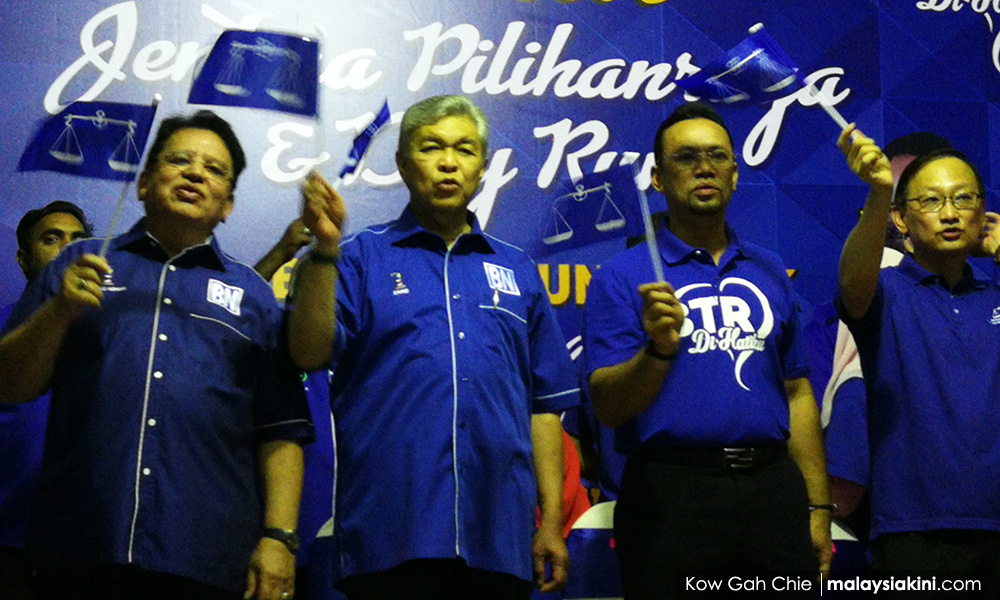 He further approved a long list of requests submitted by Rizalman (second from right in photo) for the area, including offer letters for applicants of affordable housing.
Despite MCA's insistence that it should contest Bandar Tun Razak, Rizalman has made no secret of his view that Umno is better poised at winning the Malay-majority seat, and that MCA should make way after losing twice to PKR.
Before becoming an independent, former Selangor menteri besar Abdul Khalid Ibrahim wrested the seat from former MCA vice-president Tan Chai Ho in 2008, and held onto the seat in 2013.
Prior to losing the seat, Tan had held Bandar Tun Razak for three consecutive terms.
In his opening speech last night, Rizalman warned against "disappointing" the grassroots.
"I ask you to look at the atmosphere we have in front of us. If they (the people) are disappointed, I worry we won't be able to deliver a seat (to BN).
"I believe that the top leadership knows what we want," he said.
Nevertheless, the Umno man maintained that the people should support whomever BN declares as its GE14 candidate for Bandar Tun Razak.
'Umno did the work'
After calling Rizalman a hero, Zahid advised Chew (centre in photo) and MCA to "work hard" to win over Chinese voters to BN.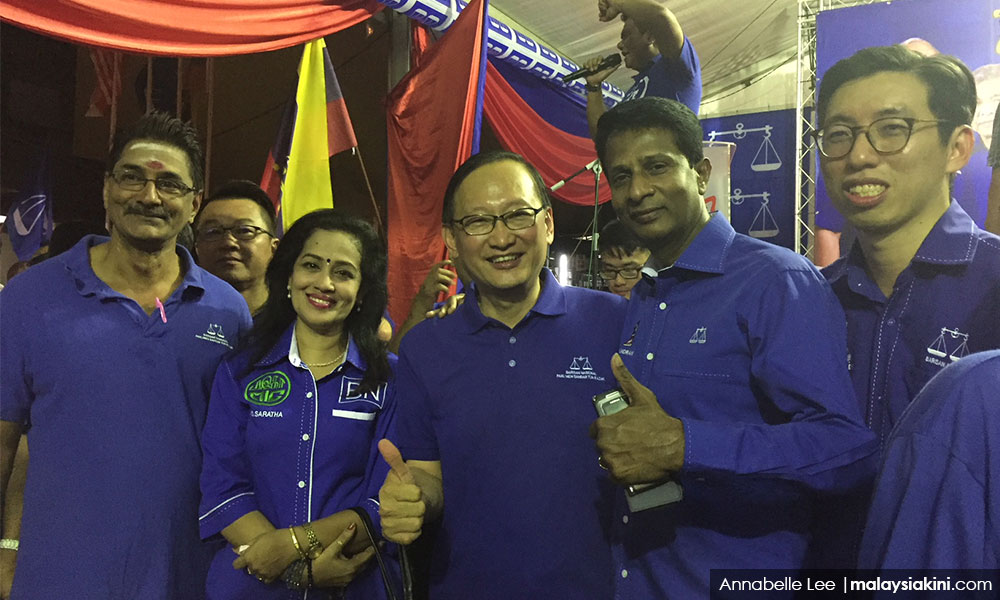 "Twice we have given MCA this seat, isn't that true?
"Who did the work? Umno did.
"But Chew, never mind, we will close this old chapter. The problem is not big, no problem.
"Now we have a new book, a new chapter. You have to work hard," he said.
Later, after the event, Chew stressed that Zahid's remarks were not an indication that MCA would lose the seat, and insisted that the party would continue to helm it unless the coalition's leadership decided otherwise.
"This is MCA's area… this is MCA's seat.
"Everyone can have their aspirations – I have mine and Rizalman has his aspirations… but the decision must come from BN top leadership," he told Malaysiakini.