By Annabelle Lee
GE14 | At a glance, the two main contenders for the marginal seat of Lembah Pantai have much in common. Both come from families of senior civil servants, attended elite schools and were educated abroad.
Trained as an accountant in the UK, Umno Lembah Pantai division chief Raja Nong Chik Raja Zainal Abidin is slated to face US-trained chemical engineer and PKR Lembah Pantai Youth chief Fahmi Fadzil in the polls.
For these privileged men, their campaign has hitherto focused on the less affluent parts of the constituency, such as Kampung Kerinchi and Kampung Abdullah Hukum, where about 45 percent of the constituents live.
This is where their similarities end.
For Nong Chik, his campaign strategy centered on visibility. He has been attending several large-scale carnivals, ceramah sessions and factory outlet sales over past consecutive weekends near people's housing programme flats (PPR).
By virtue of being an Umno man, whenever Nong Chik appears for a big event, he is flanked by big names such as Deputy Prime Minister Ahmad Zahid Hamidi and Federal Territories Minister Tengku Adnan Tengku Mansor.
At times, his campaign is supported by government agencies, such as Majlis Amanah Rakyat (Mara). Several weekends ago, Mara chose the Kerinchi PPR as the location for its first and only "Impak" carnival in Kuala Lumpur. Nong Chik was the guest of honour, despite not being the elected representative or government official.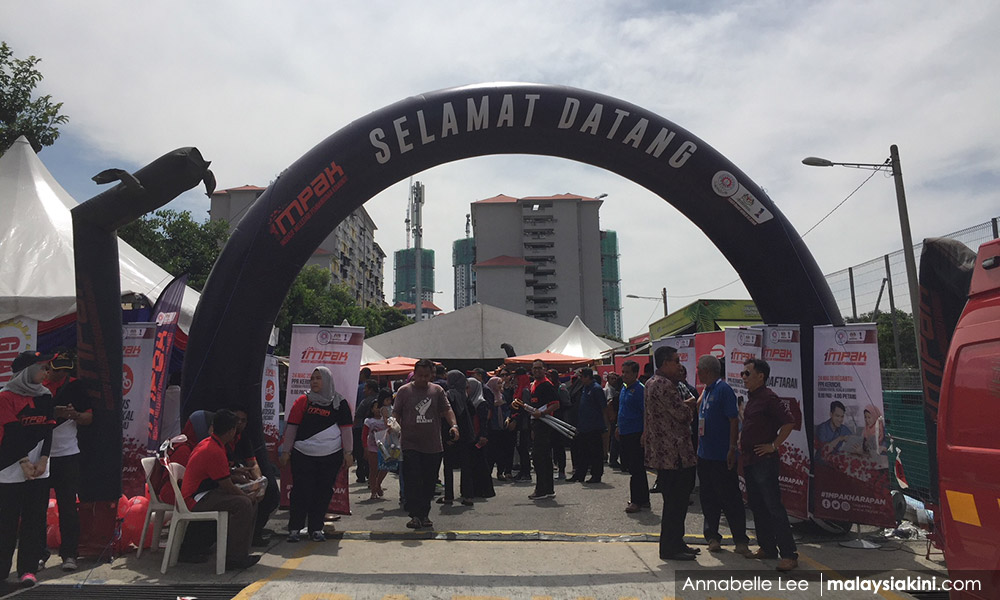 More than 6,000 guests were treated to performances by popular singers of Malay songs, Tomok and Black, were feted by food trucks and they thronged mobile and Playstation gaming stations.
A lucky draw offered headphones, mobile phones and a motorbike. Booths offering study and entrepreneurial grants were also set up.
Rakyat reminded of Mara's contributions
At the event, Nong Chik thanked Mara for choosing to hold its carnival in Lembah Pantai and reminded audiences of Mara's contributions to the rakyat while under the BN government.
"All these lucky draws are not important, what's important is Mara's services while under BN is continued. Mara has served Malaysians very well.
"Sir and madam, when you get to the ballot box, think about the results and public safety we currently enjoy. These are all fought for by BN.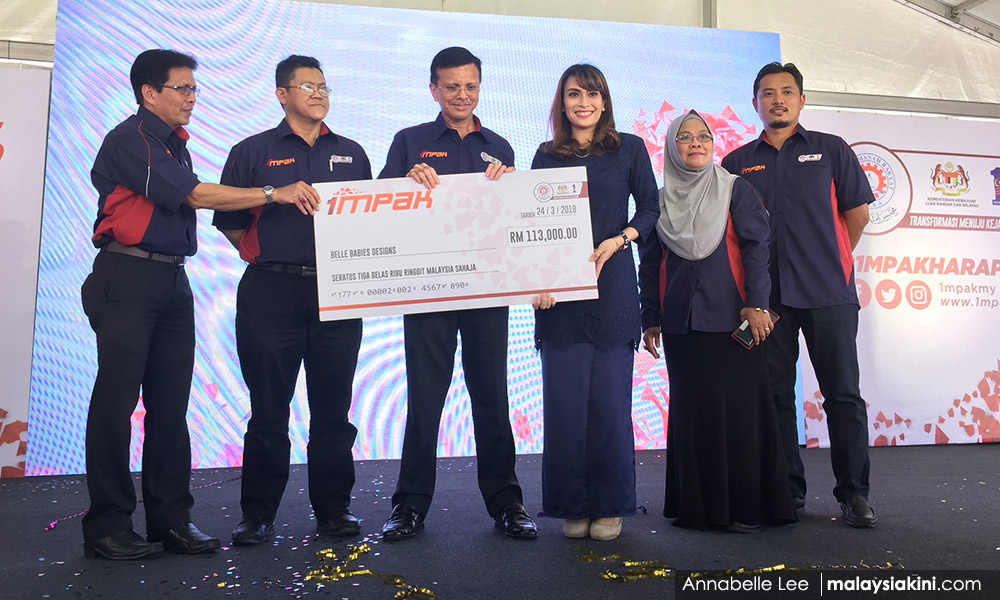 "I ask you that on the day, you would vote for BN, boleh tak?," he said to loud cheers from the audience.
Nong Chik, a former senator and Federal Territories and Urban Wellbeing Minister, has called his quest for Lembah Pantai a "personal struggle for self-actualisation".
"We have been working here for almost five years to win back the votes of Lembah Pantai voters.
"The sentiment that we have got is that those who may have supported the opposition in the past have begun to move (to BN) because, after two terms, they have not seen the services that were promised to them," Nong Chik once said.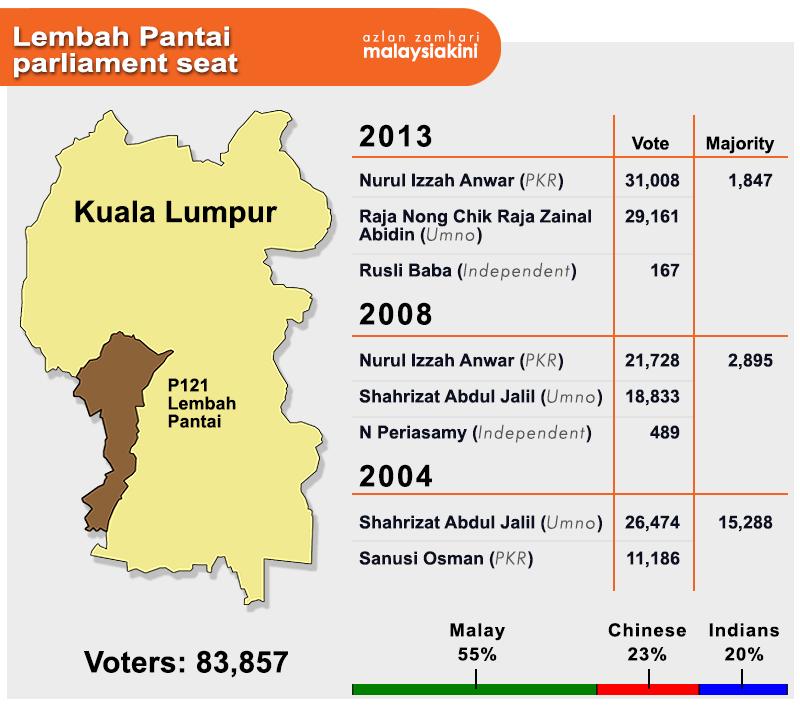 He lost by a mere 1,847 votes to incumbent Nurul Izzah Anwar in the last election.
A straw poll conducted by Malaysiakini seemed to indicate that voters were inclined to back Nong Chik and BN in the election this time around.
Kerinchi PPR resident Amir Hamzah (photo), 55, said he had seen "zero development" since Nurul Izzah came to Lembah Pantai 10 years ago. In contrast, he said, Nong Chik had always shown up whenever people in the area needed help.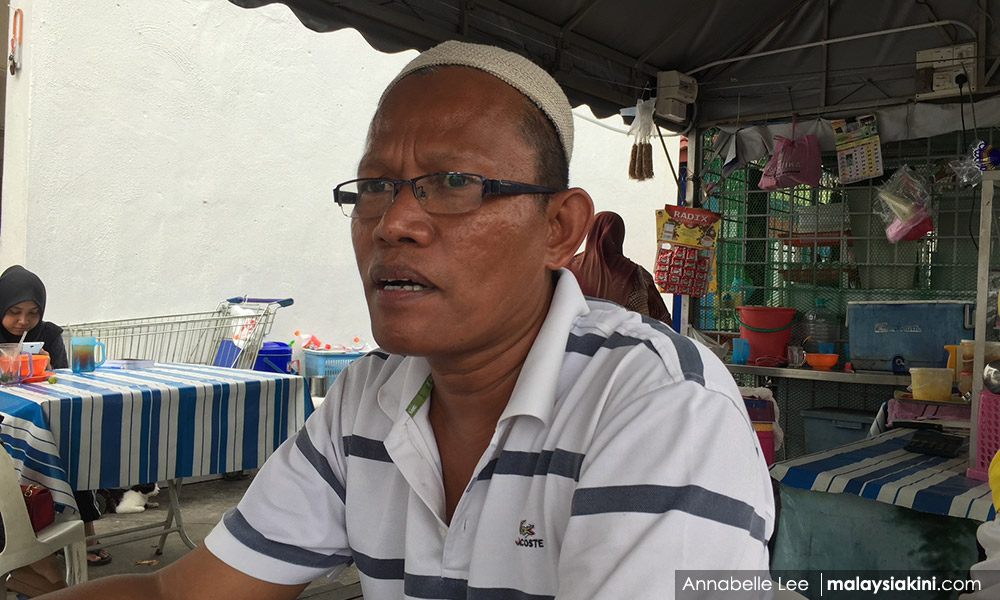 Furthermore, Nong Chik had promised to solve Amir's main woe – the lack of parking spaces – should he win.
"He promised that if BN takes over Lembah Pantai, he will build a multi-storey car park next to our Kerinchi PPR field," he said.
Meanwhile, 84-year-old K Letchumy said she was disappointed at how Nurul Izzah had failed to help her and her blind son.
"She said she has no money because she is not from the (federal) government.
"At a BN event the other day, I got a whole box of things and RM100 cash," Letchumy (photo) said when met at a market in Taman Sri Sentosa.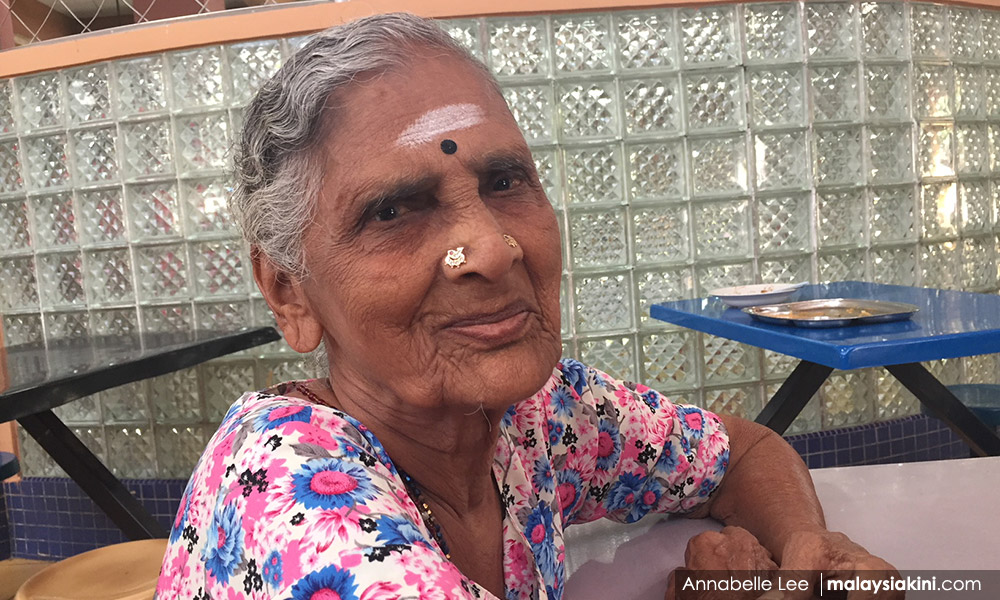 The federal government allocates RM5 million for BN MPs for constituency work, but none for opposition candidates.
PKR is not expected to field Nurul Izzah in Lembah Pantai this time round and instead replace her with her de facto deputy Fahmi.
Tall order for fresh-faced Fahmi
Fahmi is a first-time contender but is no stranger to politics. He has been PKR communications head since September 2013. He has also served as the party's Youth chief in Lembah Pantai the past four years.
Lacking the star power of Nurul Izzah – the eldest daughter of former deputy prime minister Anwar Ibrahim who is also known by the monicker "puteri reformasi" – Fahmi appeared to be on the back foot in this campaign.
Locals at the Sentosa Market told Malaysiakini that despite being opposition supporters, they were clueless as to who Fahmi is, even as he was distributing nasi lemak to them during a walkabout there.
All five people approached could not name him. However, most said that they would continue to support him by virtue of the party he represented.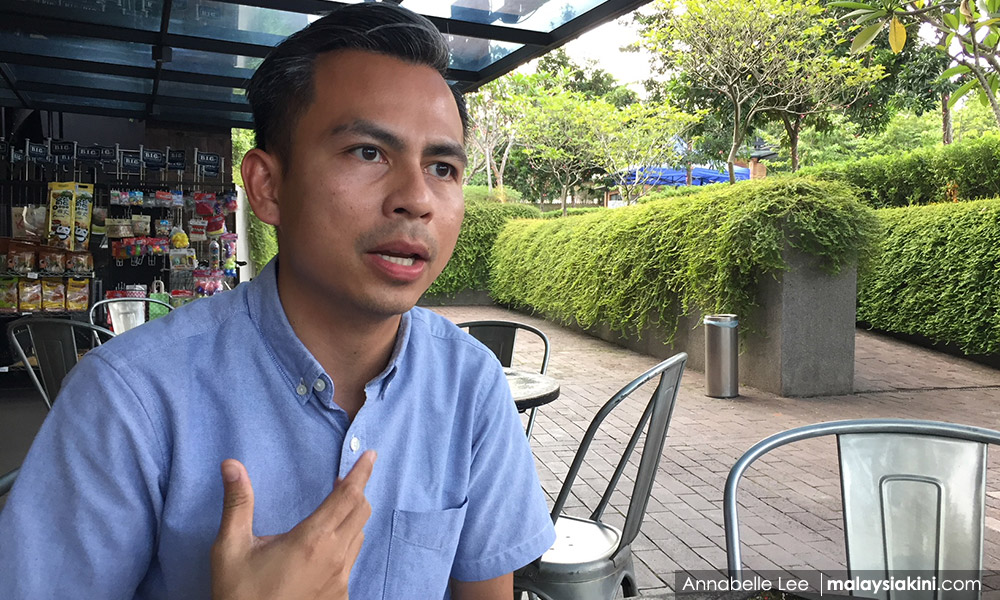 "I have never seen him (Fahmi, photo) and I don't know him. But I will support him anyway if Nurul Izzah says he is okay.
"I think people will look at the parties and not the person," said retiree Cheah Kok Ming, while waiting to receive his nasi lemak.
Fellow retiree Low Yong Son concurred with Cheah but added that Fahmi faced a tall order against the popular and well-connected Nong Chik, especially after how even Nurul Izzah won so narrowly against the latter.
Unlike the pomp that is often seen at Nong Chik's public engagements, Fahmi has been relying on small-scale events such as leafleting at markets, wheelchair handovers to the needy in their homes and election machinery launch at roadside eateries.
He has also embarked on a series of "Goreng Pisang Havoc!" events, offering free banana fritters to PPR residents.
However, the efficacy of this strategy is in question, because the patrons are mostly children, who would discard the packaging with Fahmi's face printed on it before their parents got to see it.
Later, at a roadside stall at Abdullah Hukum, Fahmi addressed some 30 people where he introduced himself and spoke of Pakatan Harapan's policies.
Speaking to Malaysiakini, Fahmi admitted he is unable to match Nong Chik in terms of machinery and financial resources.
However, he denied being intimidated and believes that Lembah Pantai folk have learned to look past handouts and are hungry for "real change".
"We can't compare, we don't have the money and we won't get the permits anyway.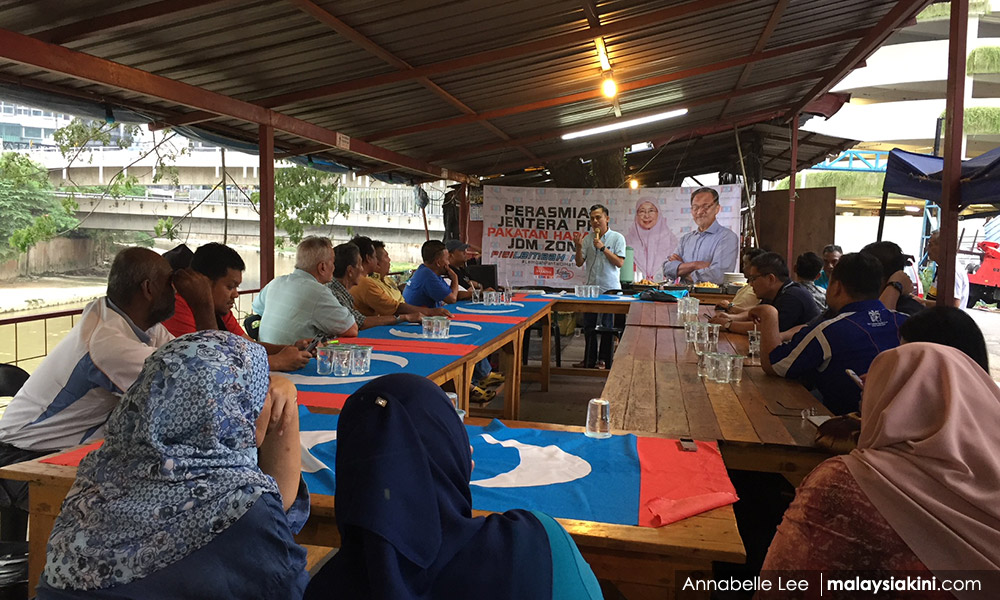 "The way we have been doing it in Lembah Pantai is to really engage the people one on one… the reason why we give out pisang goreng is as an opportunity to meet people.
"I am not offering anything like what they are offering. What I am offering is something more substantial, long-term, real and something that will change their lives.
"What we really need to do is reform the systems… and look at what are the sustainable jobs for youth in places like Abdullah Hukum. We see so many poor youths who support their families working as despatch riders, on a salary of RM1,200 a month.
"How is a carnival going to help them?
"I feel honoured that BN is levelling these kinds of resources against us. But I think they fail to recognise the undercurrent and the level of discontent that persists among the people," the 37-year-old said.
PAS to join the fray
Apart from the BN juggernaut, PKR would have to strategise ways to address the entry of PAS into the Lembah Pantai race.
Landscape architect Fauzi Abu Bakar (photo), 60, has been named as the Islamist party's candidate for the seat. This will be both his and PAS' first time contesting there.
"I have been very involved in local issues here in Lembah Pantai. I have been active in resident associations and with the KL City Hall (DBKL). I have also been doing social activities in suraus and mosques for more than 20 years here.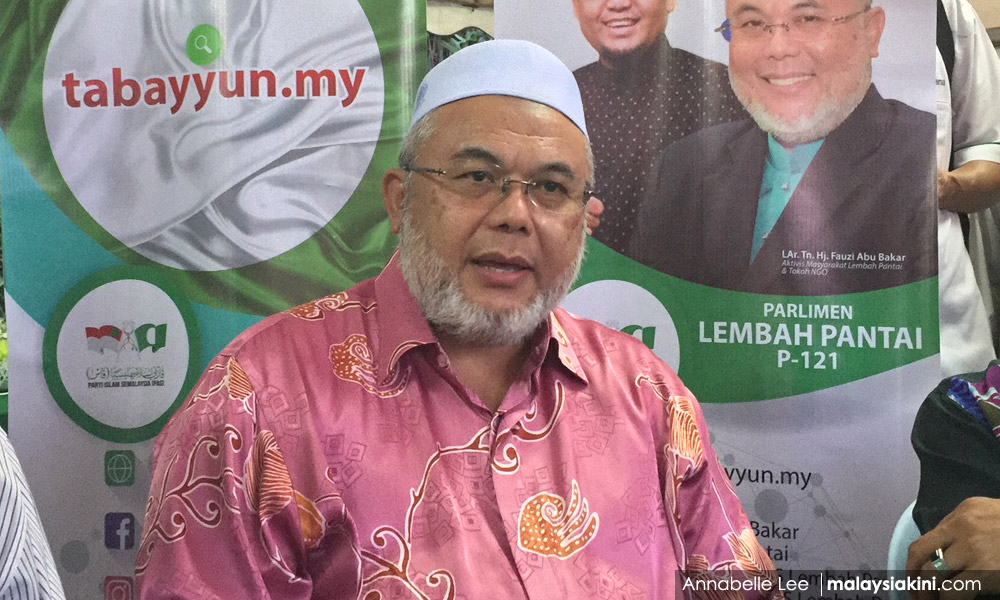 "I think the absence of the incumbent PKR representative here, coupled with the choice of a kleptocratic government, means that PAS has a chance to win," Fauzi said at a recent press conference held at the party's Lembah Pantai headquarters.